IIOT 11ax WiFi solution-IPQ5018+QCN6122/QCN6102 is the most cost-effective solution to achieve low power consumption
There are more and more demands for WiFi industrial applications. However, due to budget issues, many projects will choose some more cost-effective WiFi solutions, but at the same time, the demand for performance cannot be reduced. The following is a high-performance and cost-effective WiFi6 solution. .
IPQ5018, QCN6122 and QCN6102 are some Qualcomm (Qualcomm) chip models, each of which has different characteristics and application areas. Here are some of their features and applications: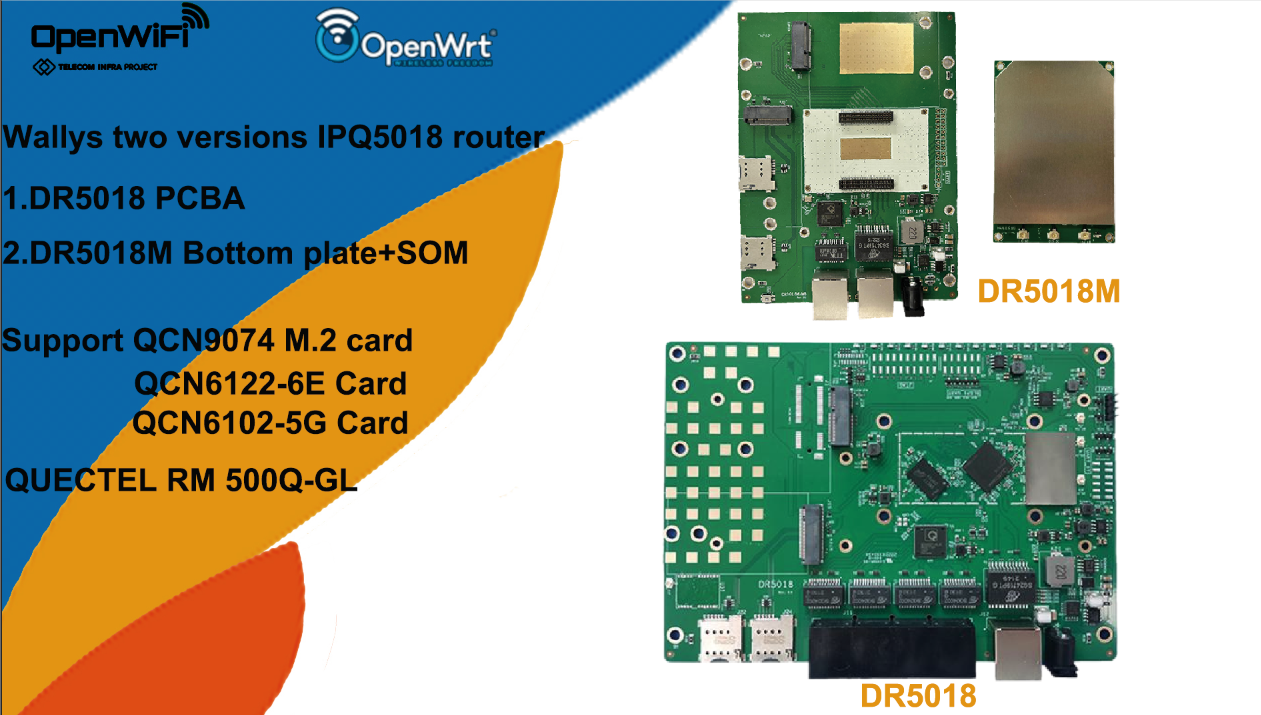 IPQ5018:
DR5018 based on IPQ 5018 chipset is an enterprise wireless module integrated with 2×2 On-board 2.4GHz radio . With radio card DR6102-5G, you can get access to 5G radio . If you need to use 6GHz for your application, please use DR6122-6E radio card. This flexible options are designed specifically to provide users access to high-bandwidth video streaming, voice, and data transmission for office and challenging RF environment in factories,warehouses establishment.
IPQ5018 is a network processor that does not process wireless signals itself, but is used in routers and network devices to support various wireless standards and frequency bands.
The specific supported wireless frequency bands depend on the specific router or network device model, because routers are usually equipped with different models of wireless modules to support different frequency bands and standards, such as 2.4GHz and 5GHz Wi-Fi bands.
Advantage:
High performance: IPQ5018 is a high-performance network processor suitable for building high-speed, high-capacity wireless networks.
Integration: It integrates multiple network functions, such as routing, switching, security, etc., which can simplify the design and development of network equipment.
Highly customizable: Custom configurations can be made according to different application scenarios and requirements.
application:
Home Router: IPQ5018 is commonly used in high-end home routers, providing high-speed Wi-Fi connections and excellent network performance.
Small Business Networking: Also available for small business networking equipment, supporting multi-user connections and high throughput.
QCN6122:
QCN6122 is a 5G modem chip used to support 5G connections.
Supported frequency bands depend on specific 5G frequency band specifications and geographic location. The 5G standard defines multiple frequency bands, such as the Sub-6GHz frequency band (including different frequency ranges such as 600MHz, 2.5GHz, 3.5GHz, etc.) and the millimeter wave frequency band (usually 24GHz and above).
QCN6122 can usually support one or more 5G frequency bands as needed to adapt to 5G networks in different regions.
Advantage:
5G connection: QCN6122 is a 5G modem chip that supports 5G wireless connection and provides high-speed, low-latency data transmission.
Highly integrated: It integrates 5G RF front-end, demodulator and other key functions, simplifying the design of 5G equipment.
Low power consumption: Designed for mobile devices and Internet of Things (IoT) devices with low power consumption.
application:
Mobile devices: QCN6122 is commonly used in mobile devices such as 5G smartphones and tablets to provide fast 5G connections.
Internet of Things (IoT): Can also be used in IoT devices, such as smart home devices and sensors, to support low-power 5G connectivity.
QCN6102:
The QCN6102 is a low-cost wireless communication solution commonly used in Internet of Things (IoT) devices and smart home devices.
Exactly supported frequency bands depend on design and application requirements. QCN6102 can support different frequency bands, including 2.4GHz and 5GHz Wi-Fi bands and other wireless communication bands.
Frequency band selection is usually determined by device manufacturers based on their application needs to ensure that the device will operate properly in a specific region and market.
Advantage:
Low cost: The QCN6102 is a low-cost wireless communication solution suitable for price-sensitive markets.
Wi-Fi Support: It supports Wi-Fi connection and can provide wireless communication to devices connected to the Internet.
Highly integrated: A variety of communication functions are integrated to reduce the need for external components.
application:
Smart Home: QCN6102 is usually used in smart home devices, such as smart cameras, smart lamps, etc., to achieve remote control and Internet connection.
Internet of Things (IoT): Can also be used with some IoT devices, especially lower-priced IoT devices.
Wallys software technology advantages:
Wallys has 10 years of experience in software development and is very experienced in uboot, Linux, wifi protocol, wifi performance, OS and other systems. It mainly uses Qualcomm chips to develop important software such as drivers and kernels, and has the ability to modify and compile to meet customers' different wifi functional requirements. Meanwhile, it participates in openwrt organization and code development. wifi5 product DR40x9 has been officially supported by openwrt.
Hardware technology advantages:
We have a strong hardware design team, and experienced people know that the most difficult part of hardware design is RF circuit design, baseband, etc., while wallys team made 0 error to achieve signal integrity, such as frequency conversion of network card, from 2.4G to 900M, which is a technological breakthrough.
Clients: TIP,Facebook, Openwrt, etc
Email:sales@wallystech.com
WEB:https://www.wallystech.com/