Industrial WiFi7 Wireless Solution with IPQ9574 and QCN9274|Wallys WIFI7 Preview
In a rapidly evolving digital landscape, the demand for seamless and robust industrial wireless communication continues to grow.Wallys is set to launch an advanced industrial wireless solution leveraging the power of IPQ9574 and QCN9274 chips. With a strong focus on customization and a team of experienced engineers, Wallys is dedicated to providing tailored solutions to meet the specific needs of industrial wireless communication. In this article, we'll explore the features, compatibility, and advantages of their cutting-edge solution.
Wallys' Industrial WiFi7 Wireless Solution:
Wallys' upcoming WiFi7 product combines the IPQ9574, IPQ9554, QCN9274, and QCN6274 chips, delivering high-performance and reliable wireless communication. This comprehensive solution, expected to be released in Q2-Q3 of this year, caters to various industrial applications.
Compatibility and Hardware Platform:
The QCN9274 WiFi7 M.2 Card is specifically designed to be compatible with the IPQ9574 hardware platform. This seamless integration ensures optimal performance and compatibility, offering industrial users the best wireless experience for their specific requirements.
Different Versions of QCN9274:
The QCN9274 WiFi7 M.2 Card is available in two versions. The first variant is the DBDC (Dual Band Dual Concurrent) version, supporting both 2.4GHz and 5GHz frequency bands. The second variant is the Single Band version, which operates either on the 5GHz or 6E frequency band.
Differentiating IPQ9574 and IPQ9554:
While both chips offer exceptional performance, the main difference lies in the fact that IPQ9554 does not integrate with the 2.4GHz band. This distinction enables users to choose the most suitable chip for their specific industrial wireless requirements.
Key Features and Advantages:
The IPQ9574 chip serves as a powerful system-on-chip (SoC), delivering high-performance processing capabilities and integrated connectivity features. The QCN9274 chip, on the other hand, is a WiFi7 module that supports the latest WiFi7 standard. Together, they provide outstanding performance and reliability in industrial environments.
Enhanced Industrial Wireless Connectivity:
By leveraging the IPQ9574 and QCN9274 chips, industrial wireless solutions achieve faster data transmission, ensuring seamless streaming, handling bandwidth-intensive tasks, and improving overall network performance. The robust security features of these chips also guarantee the protection of critical data in challenging industrial environments.
Industries Benefitting from the Solution:
The IPQ9574 and QCN9274-based industrial wireless solution caters to a wide range of industries, including manufacturing, logistics, automation, energy, transportation, and more. Any industry that requires reliable and high-speed wireless communication in harsh industrial environments can benefit from this advanced solution.
Customizable Solutions and Expert Support:
Wallys specializes in developing customized solutions tailored to the specific needs of their customers. Their experienced software and hardware engineering team collaborates closely with clients to optimize their industrial wireless communication infrastructure using the IPQ9574 and QCN9274-based solution.
Getting More Information:
To inquire about Wallys' IPQ9574 and QCN9274-based industrial wireless solution, or for more information, please contact them directly via sales1@wallystech.com. Their dedicated team will be happy to assist you and provide detailed information based on your specific requirements.
Wallys, with its expertise in Linux, WiFi protocols, and Qualcomm chips, is set to revolutionize industrial wireless communication. By combining the power of IPQ9574 and QCN9274 chips, their upcoming WiFi7 solution promises enhanced performance, reliability, and customization options. Stay tuned for the release of Wallys' industrial wireless solution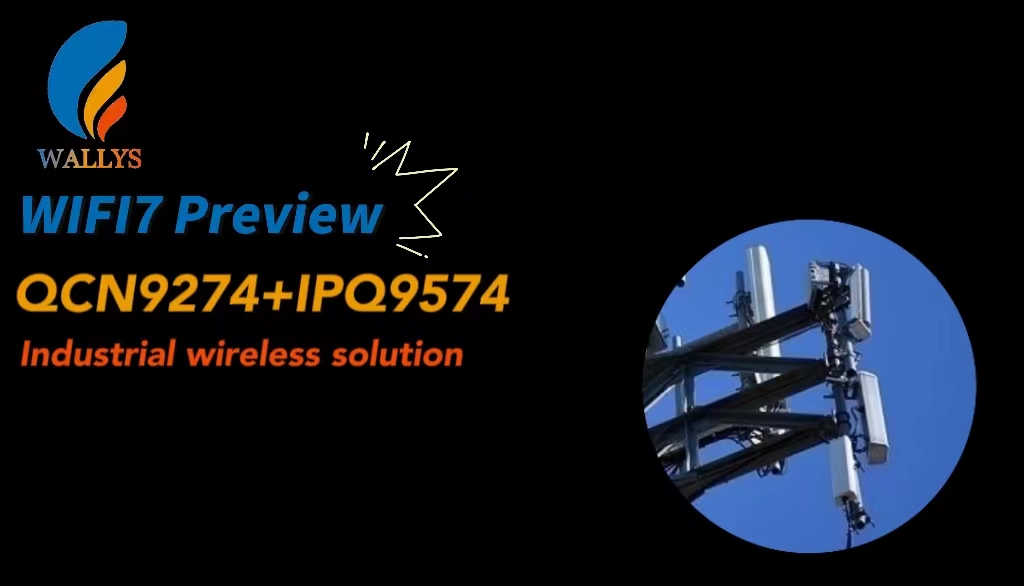 Website:https://www.wallystech.com/