Seamless Roaming with IPQ6010 and IPQ6018: Elevating Industrial-Grade WiFi6 Solutions
Are connectivity issues during transitions between WiFi access points causing challenges in industrial settings and smart cities? Bid farewell to interruptions as we introduce a new era of uninterrupted connectivity, designed exclusively for industrial-grade applications and the demands of smart city environments.
Introducing the DR6018 Series from WallysTech, featuring the innovative Seamless Roaming technology tailored for industrial use. Say goodbye to connection drop-offs as you move seamlessly between access points, ensuring a consistent and reliable connection throughout industrial environments and urban landscapes.
Seamless Roaming technology significantly reduces transition times for wireless devices, enabling smooth switching between access points. This is vital for maintaining a continuous and reliable connection, crucial for industrial operations and smart city applications. Whether you're on the factory floor, in a warehouse, navigating a smart city, or a manufacturing facility, WallysTech provides industrial-grade connectivity solutions.
Elevate your industrial WiFi experience with the WallysTech DR6018 Series. Stay connected and maintain productivity without compromise in the dynamic landscape of smart cities and industrial environments.
DR6018
Qualcomm-Atheros IPQ6010
Quad-core ARM 64bit A53 @1.8GHz Processor
1GB DDRL3L System Memory
32MB NOR Flash, 256MB NAND Flash
Supports Dynamic Frequency Selection (DFS)
2×2 On-board 2.4GHz radio, up to 573Mbps physical Data Rate
2×2 On-board 5GHz radio, up to 1201Mbps physical Data Rate
Support: QUECTEL RM500Q-GL
Support: QCN9074 WiFi 6E Card
Support Openwifi
Support QSDK
DR6018S
DR6018-S V02 IPQ6010/IPQ6018/IPQ6000
Quad-core ARM 64bit A53 @1.8GHz Processor
1GB DDRL3L System Memory
8MB NOR Flash, 256MB NAND Flash
Supports Dynamic Frequency Selection (DFS)
2×2 On-board 2.4GHz radio, up to 573Mbps physical Data Rate
2×2 On-board 5GHz radio, up to 1201Mbps physical Data Rate
Support Openwifi
Support QSDK
DR6018C
Qualcomm-Atheros IPQ6010
Quad-core ARM 64bit A53 @1.8GHz Processor
1GB DDRL3L System Memory
32MB NOR Flash, 256MB NAND Flash
Supports Dynamic Frequency Selection (DFS)
2×2 On-board 2.4GHz radio, up to 573Mbps physical Data Rate
2×2 On-board 5GHz radio, up to 1201Mbps physical Data Rate
Support: QUECTEL RM500Q-GL
Support: QCN9074 WiFi 6E Card
Support Openwifi
Support QSDK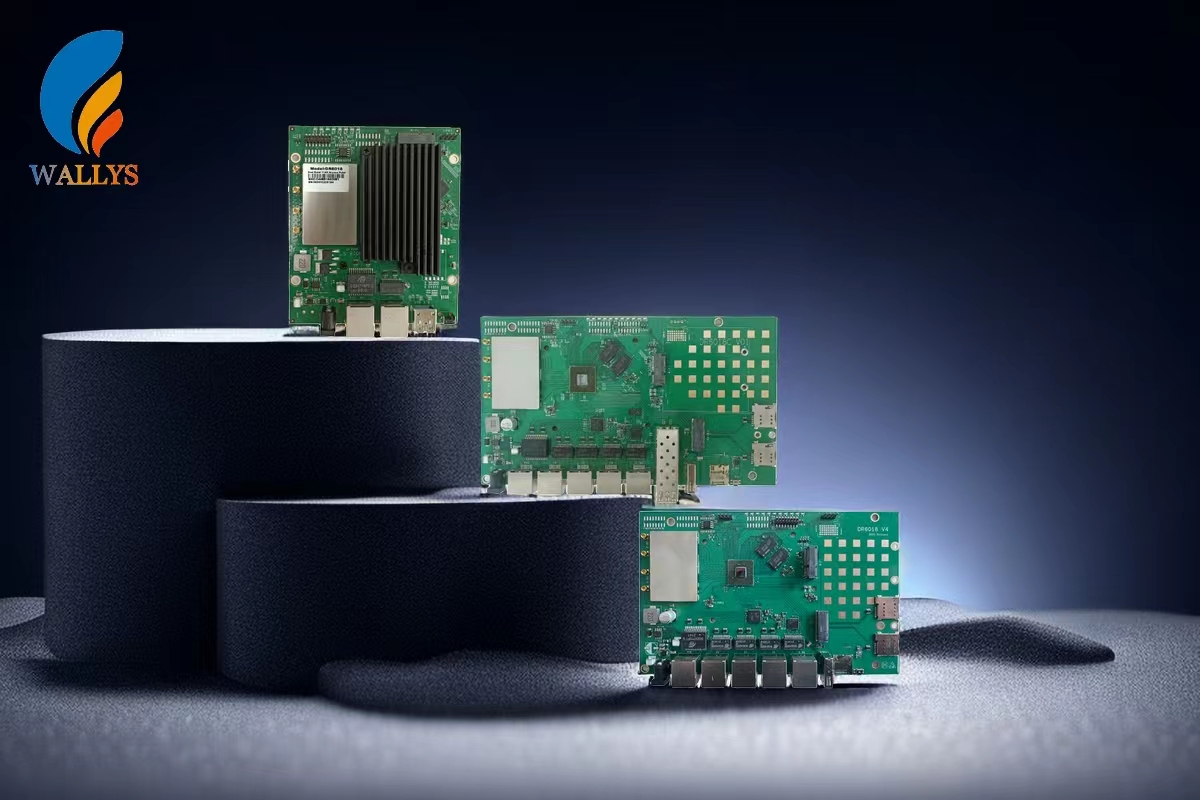 #WiFiNetworking #FastRoaming #WallysTech #DR6018 #IPQ6010 #IPQ6018 #SeamlessConnectivity #StayConnected #WiFiSolutions #ProductivityBoost
Website:https://www.wallystech.com/
Email:sales1@wallytech.com