The most popular IIOT WIFI5 solution-DR40X9-IPQ4019-IPQ4029 CPU-supports dual-band wireless connection
With the continuous development of the Internet of Things, high-performance wireless routers are becoming more and more important to meet the growing network requirements. In this field, Qualcomm has launched the IPQ4019 chip, which as a powerful network processor has excellent advantages and functions in wireless routers. Here are some outstanding advantages of IPQ4019 as a router chip: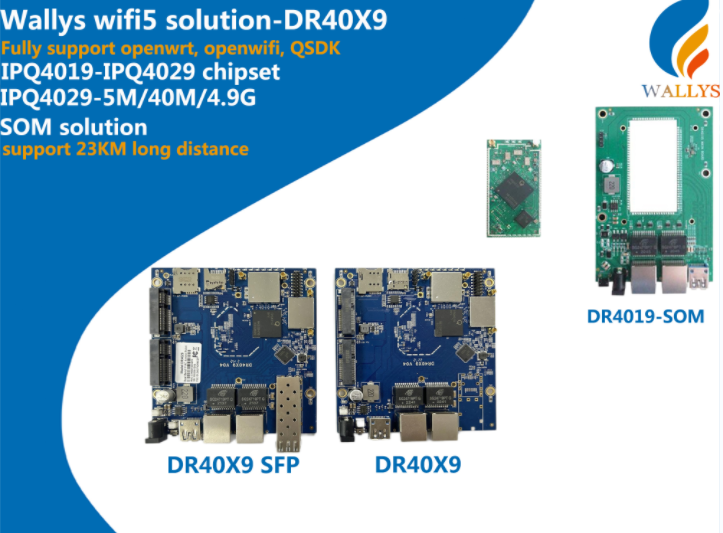 1. Powerful multi-core performance:
The IPQ4019 chip is equipped with four high-performance processing cores, and the clock frequency of each core is as high as 710 MHz. This means it can handle multiple data streams and connections simultaneously for a smoother web experience, whether in a home or business environment.
2. Efficient network acceleration technology:
The IPQ4019 chip integrates a variety of network acceleration technologies, such as MU-MIMO (multi-user multiple-input multiple-output) and Beamforming (beamforming). MU-MIMO technology allows the router to communicate with multiple devices simultaneously, increasing the throughput and efficiency of the network. Beamforming technology can adjust signal transmission according to the location of the device, improving signal coverage and stability.
3. Security and privacy protection:
The IPQ4019 chip supports hardware-level encryption and authentication functions, providing strong protection for user data and network security. This is of great significance for preventing unauthorized access, data leakage and cyber-attacks, especially when handling sensitive information.
4. Versatility and flexibility:
The IPQ4019 chip not only has excellent wireless performance, but also integrates multiple Ethernet interfaces to support wired connections. This versatility enables it to function in different networking scenarios, including home, office, and enterprise environments.
5. High-quality video streaming processing:
In today's environment where streaming media and video calls are increasingly popular, the IPQ4019 chip provides users with a clearer and smoother video experience by supporting high-quality video streaming processing. This has positive implications for things like remote work, remote education, and entertainment.
6. Easy to customize and develop:
Qualcomm provides a wealth of development tools and supporting documents for the IPQ4019 chip, enabling router manufacturers to customize development according to their own needs. This facilitates the implementation of innovative features and a personalized user experience.
Now there are many WiFi companies on the market, Wallys supports hardware customization design, software development, etc., and has won the trust and support of many customers.
Wallys' DR40X9 adopts Qualcomm chip IPQ4019, the motherboard has 2×2 2.4G & 5G, SFP is optional, which can meet the selective needs of many customers, and it works with WiFi6 card DR7915, which can have two 2.4G and two 5G at the same time Work, which is very good for many customer requirements.
To sum up, the Qualcomm IPQ4019 chip, as the core processor of the router, has the advantages of powerful performance, advanced network acceleration technology, security protection and multi-functionality, providing users with excellent network connection and experience. It excels at handling multi-device connections, heavy workloads, and data privacy, making it ideal for the demands of modern networking. Whether it is used for home network or enterprise-level deployment, the IPQ4019 chip will have a significant positive impact on network performance improvement.
Wallis is an ODM/OEM specialized in Qualcomm wireless solutions. Has rich software and hardware customization skills and practical case experience. The founder of the company is a senior software engineer, especially good at Qualcomm's wireless solutions, such as linux and wifi protocols. Rich experience, Qualcomm chip development driver, kernel and other important software development, modification and compilation, using our powerful software capabilities, successfully completed many industrial-level projects, such as the completion of coal mine 2.4g and 5g staggered beacon frequency bands, AP controller , long-distance data transmission and other functions urgently needed by the wifi industry. In addition, we have also cooperated closely with TIP and openwrt in wireless driver research and other fields.
Email:sales@wallystech.com
WEB:https://www.wallystech.com/