QCA9880+MT7915 mini pcie card chip difference
Qualcomm chip QCA9880 and MTK chip MT7915 are both wireless network chips for providing Wi-Fi functions. Here are some possible differences between them:
manufacturer:
Qualcomm chip QCA9880: produced by Qualcomm (Qualcomm).
MTK chip MT7915: produced by MediaTek.
Performance and Specifications:
Qualcomm QCA9880: This chip is commonly used in the 802.11ac wireless standard and supports dual-band (2.4GHz and 5GHz) operation. It can provide a maximum theoretical transmission rate of up to 1300Mbps, supports technologies such as MU-MIMO (multi-user multiple input multiple output) and Beamforming (beamforming), and provides a more stable and efficient Wi-Fi connection.
MTK MT7915: This chip is typically used to support higher speed Wi-Fi standards such as 802.11ax (Wi-Fi 6). It also supports dual-band operation and employs advanced technologies such as OFDMA (Orthogonal Frequency Division Multiple Access) and BSS Color (Basic Service Set Color) to increase the capacity and performance of the network.
compatibility:
Qualcomm QCA9880: Supports older Wi-Fi standards, including 802.11a/b/g/n/ac, etc.
MTK MT7915: Supports the latest Wi-Fi 6 standard while being backward compatible with older Wi-Fi standards.
use:
Qualcomm QCA9880: May be used in older devices and routers since it supports older Wi-Fi standards, but can also be used in modern devices that support Wi-Fi 5 (802.11ac).
MTK MT7915: Since it supports the latest Wi-Fi 6 standard, it is often used in a new generation of high-performance routers and devices to provide faster and more reliable Wi-Fi connections.
On the WiFi 5 (802.11ac) router motherboard, the two chips QCA9880 and MT7915 are used to provide wireless network connection. They are wireless network chips that are responsible for handling the transmission and reception of Wi-Fi signals, enabling routers to provide stable and high-speed wireless network connections through the 2.4GHz and 5GHz frequency bands.
Specifically, their roles include but are not limited to:
Wi-Fi connectivity support: Both chips support different Wi-Fi standards, including 802.11a/b/g/n/ac. They are able to process Wi-Fi signals from connected devices and provide high-speed and stable wireless network connections.
Dual frequency support:
Both QCA9880 and MT7915 support dual-band operation, that is, work in the 2.4GHz and 5GHz frequency bands at the same time. This allows the router to provide Wi-Fi signals on different frequency bands, helping to reduce interference and provide better connection quality.
MIMO technology:
They support multiple-input multiple-output (MIMO) technology, such as 2×2 MIMO or 3×3 MIMO. MIMO allows multiple antennas to transmit and receive data simultaneously, improving network throughput and transmission efficiency.
Beamforming:
This is a technology that optimizes wireless signal transmission. The chip can identify the location of the connected device and adjust the direction of the signal, thereby improving the coverage and performance of the signal.
security function:
These chips often provide advanced security features, such as the WPA3 encryption protocol, to protect wireless networks from potential security threats.
In general, QCA9880 and MT7915 are the key components on the WiFi 5 router motherboard. They are responsible for realizing the wireless connection function, enabling the router to extend the network connection to each terminal device, and providing users with a high-speed, stable and secure wireless network experience.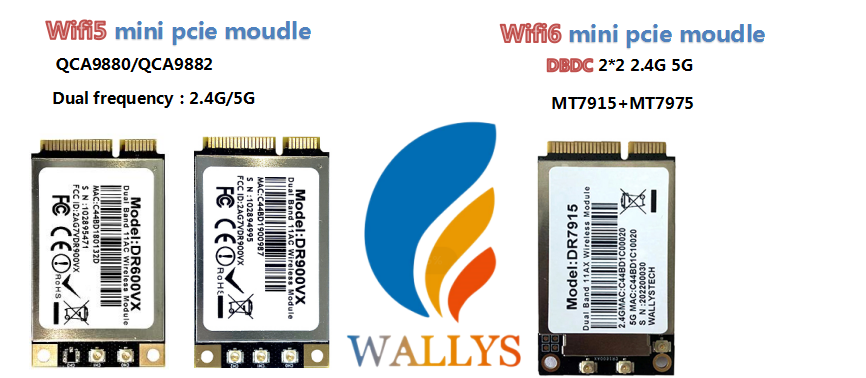 Wallys has over 15 years of research and development experience, experienced in linux, wifi protocol and other aspects, Qualcomm chip development drivers, kernel and other important software development, modification and compilation, to meet customers' different wifi functional needs.
We have a strong hardware design team, and experienced people know that the most difficult part of hardware design is RF circuit design, baseband, etc., while wallys team made 0 error to achieve signal integrity, such as frequency conversion of network card, from 2.4G to 900M, which is a technological breakthrough.
Clients: TIP,Facebook, Openwrt, etc
Email:sales@wallystech.com
WEB:https://www.wallystech.com/