MT7915 with MT7975|Wi-Fi 6 DBDC mini PCIe network card DR7915 and application
About MT7915 and MT7975
MediaTek presented its combined MT7915 wifi 6 and Bluetooth 5 chipset at ces 2020,which designed for high-performance ap routers, Repeaters and mesh network devices. The MT7915 series of chipsets (MT7915a/d) is available for domestic, commercial or business applications and is already available for product development, and the first equipment is expected to be available in the first quarter of 2020.
The MediaTek MT7915 is the first combined solution of a single chip Wi-Fi 6 wave 1 + and Bluetooth 5 in the world. The chip incorporates a dedicated rf receiver and "zero wait DFS channel monitoring" (an industry initiative), allowing faster, more reliable and easy to use connections.
Patented features include the MediaTek development division's ESR technology, greater optimization of wireless network efficiency and capacity, and improved internal FEM, which can increase efficiency by 60%. It provides the best UL coverage and better peak performance than its competitors.
Searching for a network card for your project
The DR7915 network card offers a wide range of versatile applications due to its high-performance wireless capabilities based on the MT7915 + MT7975 Chipset. This cutting-edge wireless module is specifically designed to cater to various demanding scenarios, making it an ideal solution for a multitude of applications.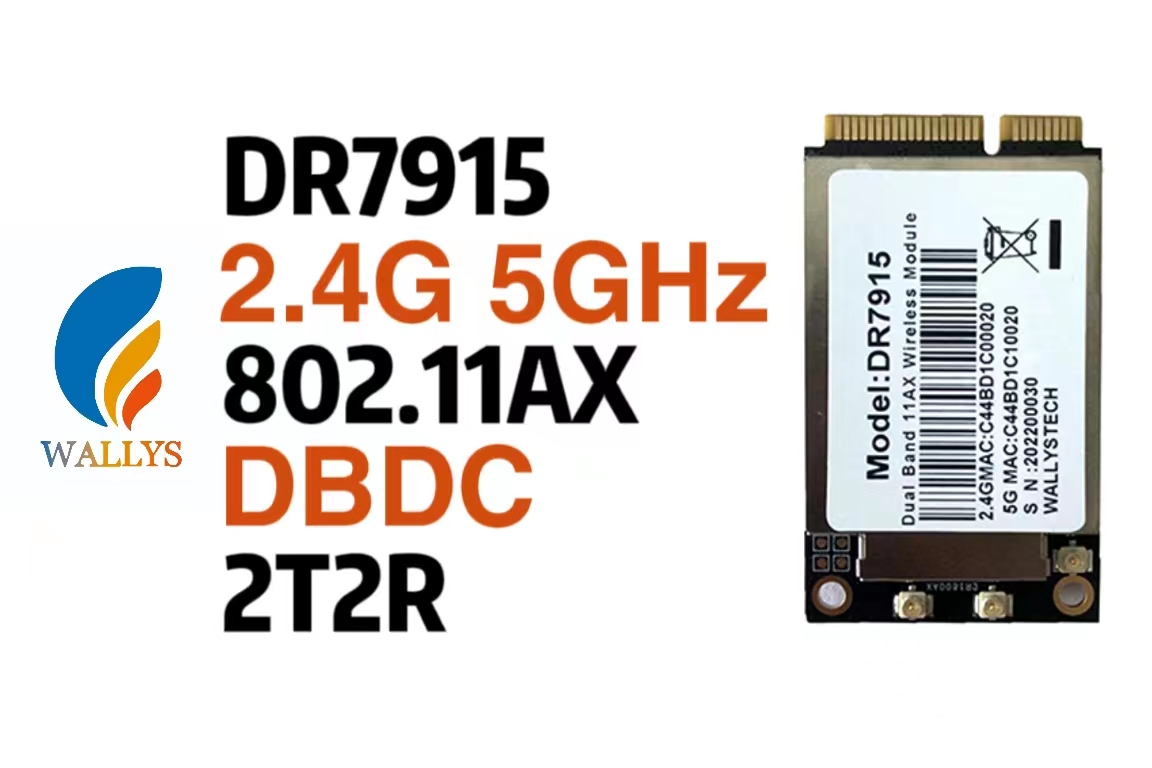 Industrial Automation: The DR7915 is well-suited for industrial automation applications, enabling seamless connectivity in factories and warehouses. It facilitates real-time data transmission and remote monitoring, optimizing production processes and enhancing overall operational efficiency.
Video Surveillance: With its ability to handle high-bandwidth video streaming, the DR7915 is an excellent choice for video surveillance systems. It ensures stable and reliable wireless connectivity, allowing for the smooth transmission of video feeds from cameras to monitoring centers.
Smart Retail: In the retail sector, the DR7915 facilitates seamless wireless connectivity for various smart devices, such as point-of-sale systems, inventory management, and customer engagement tools. It helps retailers streamline operations and provide a more personalized shopping experience.
Public Safety: The network card's robust and high-performance capabilities make it suitable for public safety applications, such as emergency response and disaster management. It enables reliable communication and data exchange between emergency personnel and command centers.
Transportation: The DR7915 can be integrated into transportation systems, including buses, trains, and logistics vehicles. It ensures continuous connectivity for passenger Wi-Fi, fleet management, and real-time tracking, enhancing the overall passenger experience and optimizing logistics operations.
Healthcare: In healthcare settings, the DR7915 supports seamless data transmission for medical devices, patient monitoring systems, and electronic health records. It helps healthcare providers deliver efficient and accurate care, improving patient outcomes.
Education: The network card can be utilized in educational institutions to provide reliable Wi-Fi connectivity for students and staff. It supports online learning, collaborative classrooms, and campus-wide connectivity.
Hospitality: Hotels and resorts can benefit from the DR7915 by offering high-speed and reliable Wi-Fi services to guests. It ensures a seamless internet experience for guests and supports various hospitality applications.
Telecommunications: The DR7915 can be integrated into telecom infrastructure for backhaul connectivity, extending coverage to underserved areas and enhancing network performance.
Smart City Applications: The network card plays a crucial role in various smart city applications, such as smart lighting, waste management, and environmental monitoring, where reliable and high-speed wireless communication is essential.
In summary, the DR7915 network card's high performance and robust wireless capabilities make it an ideal solution for a wide range of applications across industries, contributing to enhanced efficiency, connectivity, and productivity in various challenging RF environments.
Click below the link for more information of DR7915
https://www.wallystech.com/Network_Card/DR7915-wifi6-MT7915-MT7975-2T2R-support-OpenWRT-802.11AX-supporting-MiniPCIe-Module.html
Wallys Communications (Suzhou ) Co., LTD is mainly engaged in the research and development and production of wireless communication products,such as Routerboard,Network Card,Industrial Wireless AP,Antenna etc.OEM/ODM/JDM services for customers supported.
With our experienced R&D engineer team,which with a demonstrated history of working in the wireless industry,you can explore the project with RF and embedded communications,network protocol,firmware,openwrt,linux system,development,analog and Digital Circuit Design,Network Processors,Power supplies,PCB design and layout with us.
Welcome to email us for more information.
Email:sales1@wallystech.com