IPQ9574-Four M.2 Connectors Platform|Wallys Industrial WIFI7 Solution|FQA
WiFi 7, also known as IEEE 802.11be Extremely High Throughput (EHT), is the upcoming WiFi standard that promises impressive advancements in wireless technology. It operates across the 2.4 GHz, 5 GHz, and 6 GHz bands, making optimal use of available spectrum resources. While WiFi 6 was developed to cater to the increasing number of connected devices, WiFi 7 aims to provide exceptional speeds and enhanced efficiency for every device. If you find yourself dealing with constant buffering, lag, or network congestion, upgrading to a WiFi 7 router could be the ideal solution.
WiFi 7 introduces several key features, including 320 MHz ultra-wide bandwidth, 4096-QAM, Multi-RU, and Multi-Link Operation, enabling speeds that are 4.8 times faster than WiFi 6 and a staggering 13 times faster than WiFi 5. These advancements unlock a wide range of possibilities and enhance performance in various scenarios.
Wallys plans to develop Wi-Fi 7 product that utilizes the IPQ9574,IPQ9554,QCN9274,QCN6274 chips, which is expected to be released around Q3 of this year. With an experienced software and hardware engineering team, Wallys is well-equipped to develop customized solutions that meet the specific needs of their customers. By staying up-to-date with the latest technological advancements and offering customized solutions, Wallys is positioned to continue to be a leading provider of industrial wireless communication solutions.
FAQ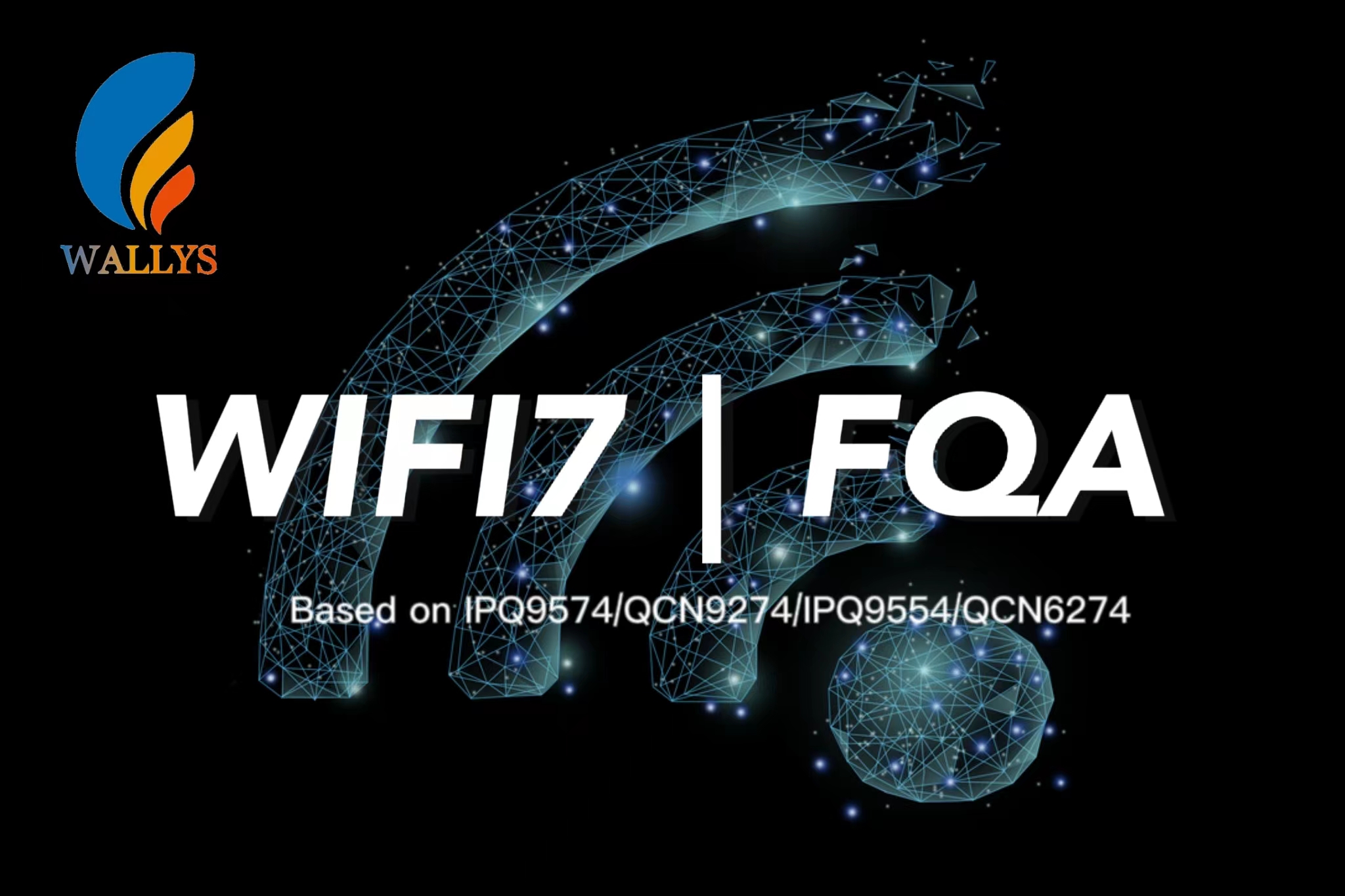 Q: What are the different versions of the QCN9274 WIFI7 M.2 Card?
A: There are two versions of the QCN9274 WIFI7 M.2 Card. The first version is the DBDC (Dual Band Dual Concurrent) variant, which supports both the 2.4GHz and 5GHz frequency bands. The second version is the Single Band variant, which supports either the 5GHz or 6E frequency band.
Q: What hardware platform will the QCN9274 WIFI7 M.2 Card support?
A: The QCN9274 WIFI7 M.2 Card is designed to be compatible with the IPQ9574 hardware platform. It ensures optimal performance and compatibility when used together with this specific hardware platform.
Q: Does Wallys offer QCN6274 solutions?
A: The QCN6274 is a Qualcomm WiFi 7 chip, and Wallys is currently in the process of developing a WiFi module integrated with the QCN9274 chip. It's important to note that the QCN9274 chip is designed for industrial-grade applications, while the QCN6274 is targeted towards commercial-grade usage. If you're working on a new project, I would recommend testing with the QCN9274 chip first, as it offers better performance and allows for comprehensive testing during the initial stages.
Q:What is the difference between IPQ9574 and IPQ9554?
A:The main difference is 9554 does not integrate with 2.4G.
Q: What are the key features of the IPQ9574 and QCN9274 chips?
A: The IPQ9574 chip is a powerful system-on-chip (SoC) designed for high-performance applications, offering advanced processing capabilities and integrated connectivity features. The QCN9274 chip is a WiFi7 module that supports the latest WiFi7 standard.
Q: What are the advantages of using the IPQ9574 and QCN9274 chips in industrial wireless solutions?
A: The IPQ9574 and QCN9274 chips provide exceptional performance and reliability in industrial environments. They offer reliable connectivity, high data transfer speeds, low latency, and robust security features, making them ideal for industrial wireless communication needs.
Q: How can the IPQ9574 and QCN9274 chips enhance industrial wireless connectivity?
A: By utilizing the IPQ9574 and QCN9274 chips, industrial wireless solutions can achieve faster and more efficient data transmission, enabling seamless streaming, handling bandwidth-intensive tasks, and improving overall network performance. The chips' robust security features also ensure the protection of critical data in industrial environments.
Q: What industries can benefit from the IPQ9574 and QCN9274-based industrial wireless solution?
A: The IPQ9574 and QCN9274-based solution is suitable for a wide range of industries, including manufacturing, logistics, automation, energy, transportation, and more. Any industry that requires reliable and high-speed wireless communication in harsh industrial environments can benefit from this solution.
Q: Can the IPQ9574 and QCN9274-based solution be customized to meet specific industrial requirements?
A: Yes, Wallys specializes in developing customized solutions tailored to the specific needs of our customers. Our experienced software and hardware engineering team can work with you to customize the IPQ9574 and QCN9274-based solution to optimize your industrial wireless communication infrastructure.
Q:When will the IPQ9574+QCN9274 available to purchase?
A:The wallys IPQ9574+QCN9274 solution schedule to be released by Q3 of 2023,more details please contact wallys sales team via sales1@wallystech.com
Q: How can I get more information or inquire about the IPQ9574 and QCN9274-based industrial wireless solution?
A: For more information or to inquire about our IPQ9574 and QCN9274-based industrial wireless solution, please contact us directly via sales1@wallystech.com. Our dedicated team will be happy to assist you and provide further details based on your specific requirements.
Wallystech is a leading technology company with over 16 years of experience in research and development. Our expertise lies in Linux and WiFi protocols, and we have specialized knowledge in developing software for Qualcomm chips. We offer a range of services, including kernel modifications, driver development, and software compilations, to cater to our clients' diverse WiFi functional requirements. Our team of professionals is dedicated to delivering customized software solutions that meet the highest standards of performance and reliability.
In addition to our software capabilities, we have a skilled hardware design team composed of experienced professionals. They possess deep understanding and expertise in RF circuit design and baseband technology. With their knowledge, we develop robust and efficient hardware solutions that complement our software offerings.
Our innovative technology solutions have garnered recognition from renowned clients such as Facebook, Openwrt, and TIP. We take pride in delivering high-quality products and services that meet the demands of industry leaders.
At Wallystech, we are driven by a passion for pushing the boundaries of technology. We continue to invest in research and development to stay at the forefront of the industry and provide cutting-edge products and services to our clients.To learn more about the QCN9274 WiFi 7 module and other innovative networking solutions by Wallys, visit our website or contact our team for personalized assistance.
Website:https://www.wallystech.com/
Email:sales1@wallystech.com