IPQ6010/IPQ6018 WIFI6 802.11AX 2.5Gbps Ethernet Port Support SNMP|Wallys
IPQ6010 Chip:
The IPQ6010 chip is at the heart of the DR6018 series router boards. This powerful system-on-a-chip (SoC) from Qualcomm combines a quad-core ARM Cortex-A53 CPU with a dedicated network acceleration engine, providing exceptional performance and efficiency. With its integrated WiFi 6 capabilities, the IPQ6010 chip enables high-speed, low-latency wireless connectivity for a wide range of applications.
IPQ6018 Chip:
Similar to its predecessor, the IPQ6018 chip is designed to deliver superior performance in WiFi 6 applications. It features a quad-core ARM Cortex-A53 CPU and a powerful network acceleration engine. With support for advanced technologies like MU-MIMO (Multi-User Multiple-Input Multiple-Output) and OFDMA (Orthogonal Frequency Division Multiple Access), the IPQ6018 chip offers improved network efficiency and capacity.
Wallys DR6018 Router Boards:
Wallys offers three router boards based on the IPQ6010 chip, each tailored to meet different project requirements: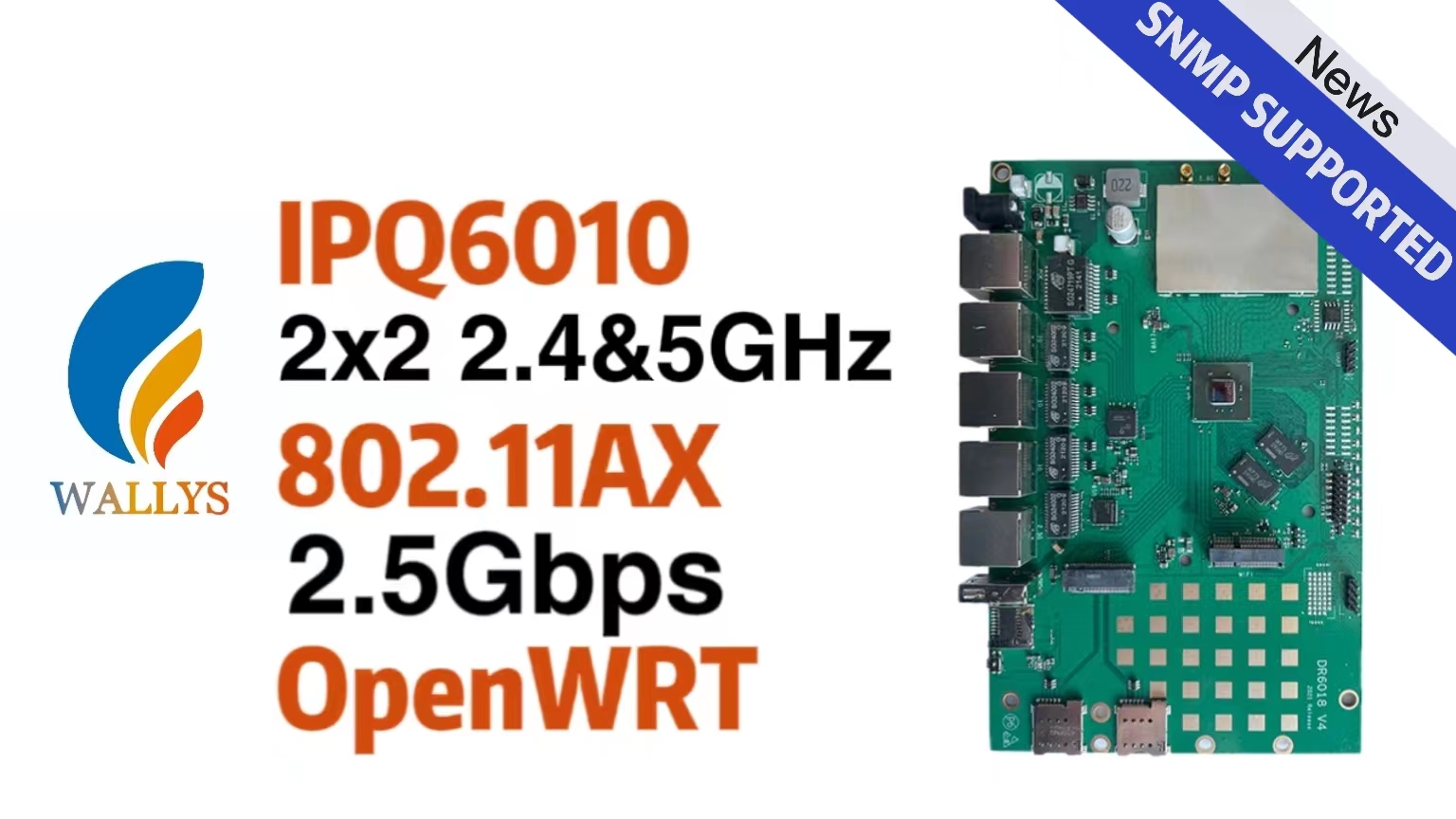 DR6018V4: This multi-port, high-performance router board features five Ethernet ports, including three 1G ports, one 1G port with Power over Ethernet (PoE) support, and one 2.5G port. The DR6018V4 is designed to deliver reliable connectivity and high data transfer rates for demanding applications. For more information, visit
https://www.wallystech.com/Routerboard/DR6018V4-wifi6-Qualcomm-IPQ6010-IPQ6018-FAMILY-2T2R-2.5G-ETH-port-supporting-5G-celluar-Modem-802-11AX-MU-MIMO-OFDMA.html
DR6018C: If your project requires an SFP optical port, the DR6018C is the ideal choice. Built on the IPQ6010 chip and compatible with OpenWrt, this router board offers the same features as the DR6018 but includes an additional SFP optical port. This allows for extended connectivity options to meet the specific needs of your project. For more information, visit
https://www.wallystech.com/Routerboard/DR6018CV01-wifi6-Qualcomm-IPQ6010-IPQ6018-FAMILY-2T2R-2.5G-ETH-port-supporting-5G-celluar-Modem-802-11AX-MU-MIMO-OFDMA-SFP.html
DR6018-S: For projects that demand a smaller form factor and fewer Ethernet ports, the DR6018-S is a compact router board based on the IPQ6010/IPQ6018/IPQ6000 CPU. With just two Ethernet ports, including 1x1G Ethernet and 1x1G Ethernet with PoE, the DR6018-S is an excellent choice for space-constrained environments. It also includes an M.2 slot for using the QCN9074-6E card. For more information, visit
https://www.wallystech.com/Routerboard/DR6018-S-V02-wifi6-Qualcomm-IPQ6010-2T2R-2-GE-port-supporting-QCN9074-wifi-card-802.11AX-MU-MIMO-OFDMA.html
What is SNMP?
SNMP (Simple Network Management Protocol) is an application-layer protocol used for managing network devices. It provides a standardized framework and set of rules for collecting and organizing information about network devices, as well as for controlling and configuring them.
SNMP operates in a client-server model, where network devices, also known as SNMP agents, act as servers, and network management systems (NMS) act as clients. The NMS communicates with the SNMP agents by sending SNMP messages, which can be in the form of "Get" requests to retrieve information or "Set" requests to modify device configurations.
SNMP uses a hierarchical structure called the Management Information Base (MIB) to organize and describe the management information of devices. The MIB is a database that contains a collection of managed objects, each identified by a unique identifier called an Object Identifier (OID). Each managed object represents a specific attribute or parameter of a network device.
SNMP provides a range of operations to manage network devices, including:
Retrieving information: SNMP allows the NMS to query SNMP agents to retrieve information such as device status, performance metrics, network traffic statistics, and more.
Setting configurations: SNMP enables the NMS to send configuration commands to SNMP agents to modify device settings, such as enabling or disabling interfaces, adjusting thresholds, updating firmware, and configuring security parameters.
Event notification: SNMP agents can send traps or notifications to the NMS when specific events occur, such as device failures, link status changes, or threshold crossings. This allows administrators to be alerted to critical events and take appropriate actions.
Performance monitoring: SNMP facilitates continuous monitoring of network devices by collecting performance data such as CPU utilization, memory usage, bandwidth utilization, and error rates. This information helps administrators analyze and optimize network performance.
Security and authentication: SNMP supports different security levels and authentication mechanisms, such as SNMPv3, which provides data encryption and user authentication to protect SNMP messages from unauthorized access and tampering.
SNMP is widely used in network management and monitoring systems to simplify the administration of complex networks, improve troubleshooting capabilities, and ensure efficient network operations.
What's the application of SNMP?
SNMP (Simple Network Management Protocol) has various applications in network management and monitoring. Here are some common applications of SNMP:
Network device monitoring: SNMP allows network administrators to monitor the status and performance of network devices. By querying devices for various metrics like CPU utilization, memory usage, interface status, and network traffic, administrators can gain real-time insights into device health and take necessary actions for troubleshooting or optimizing network performance.
Fault management and alerting: SNMP facilitates fault detection and notification. SNMP agents can send traps or notifications to the network management system (NMS) when specific events or thresholds are crossed, enabling administrators to promptly respond to critical issues and minimize downtime.
Configuration management: SNMP enables remote configuration and management of network devices. Administrators can use SNMP to remotely configure device settings, such as enabling or disabling features, modifying parameters, updating firmware, and managing security configurations.
Performance analysis and reporting: SNMP provides performance data collection capabilities. By regularly collecting and analyzing performance metrics from SNMP-enabled devices, administrators can identify performance bottlenecks, plan for capacity upgrades, generate reports, and make data-driven decisions for network optimization.
Network inventory and asset management: SNMP assists in inventory management by retrieving device-specific information, such as hardware details, installed modules, and software versions. This information helps administrators maintain an up-to-date inventory and track the configuration of network assets.
Network security monitoring: SNMP plays a role in network security by providing information on security events and device status. Administrators can monitor security-related metrics, detect potential security breaches, and take appropriate actions to enhance network security.
Remote device management: SNMP allows administrators to remotely manage network devices from a central location. This capability is particularly valuable in large or distributed network environments, saving time and resources by eliminating the need for physical access to devices.
Integration with network management systems: SNMP serves as a standard protocol for integrating network devices with comprehensive network management systems. It enables seamless communication between devices and the NMS, providing a unified view of the network and simplifying network administration tasks.
Overall, SNMP is a versatile protocol with widespread applications in network monitoring, fault management, configuration, performance analysis, security monitoring, and remote device management. Its flexibility and standardized approach make it an essential tool for network administrators.
If you would like to learn more about wallys products or contact wallys directly, please feel free to shoot wallys a message!
Email:sales1@wallystech.com
Website: https://www.wallystech.com/