WiFi chip – IPQ6010 IPQ5018 IPQ8072, IPQ8074 – how to choose to suit your WiFi router – 6 industry
In modern industry, a reliable wireless network connection is essential for efficient production and data transmission. Qualcomm's WiFi 6 industrial router family offers a variety of options, including IPQ6010, IPQ5018, IPQ8072, and IPQ8074. In this article, we'll explore how to choose the WiFi 6 industrial router that suits your needs.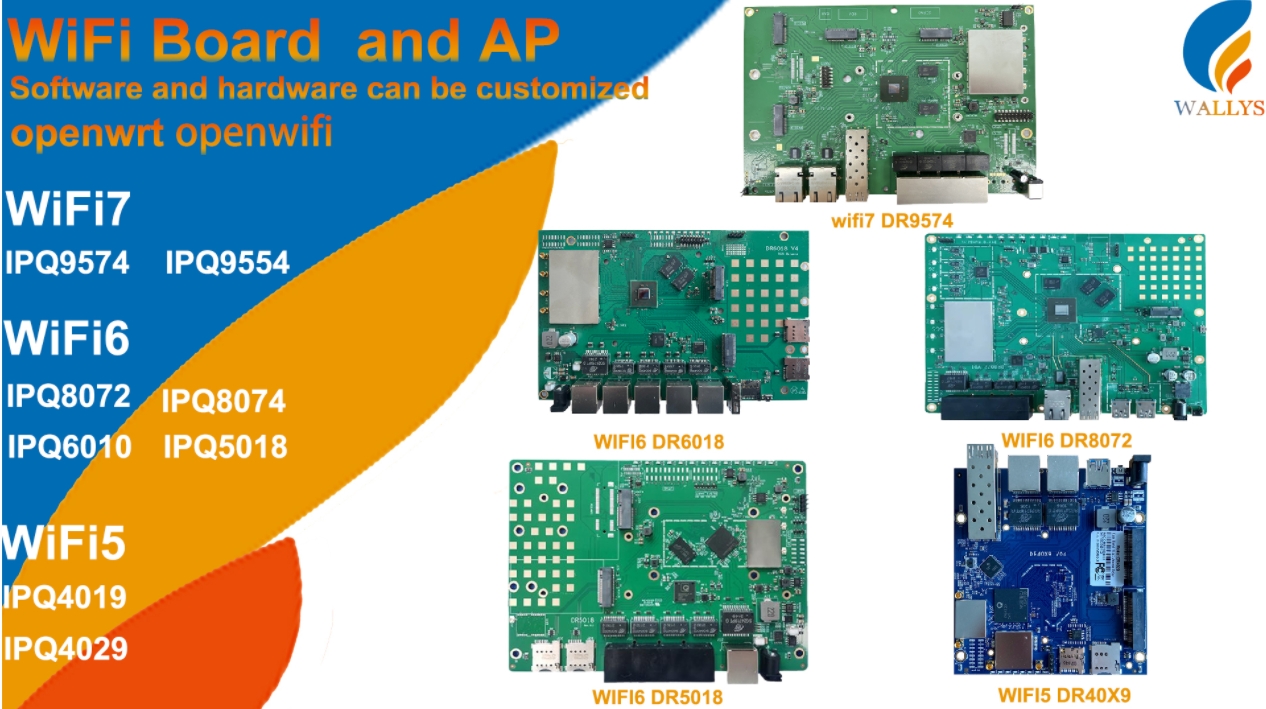 1. IPQ6010: High performance and low cost
If you need a high performance but affordable WiFi 6 industrial router, the IPQ6010 is a good choice. It has some excellent features:
High-speed connection: The IPQ6010 supports the WiFi 6 standard and provides fast data transfer speeds for large file transfers and HD streaming media.
Low cost: Compared to other WiFi 6 routers, the IPQ6010 has a lower cost and is suitable for projects with limited budgets.
Stability: While powerful, it also provides a stable network connection for industrial control and monitoring applications.
2. IPQ5018: Mid-range performance and functionality
The IPQ5018 is a mid-range WiFi 6 industrial router with performance and functionality for a variety of application scenarios:
High-speed connectivity: It provides high-speed connectivity for industrial applications that require high bandwidth, such as high-definition video surveillance.
Stability: IPQ5018 has passed the industrial test, has anti-interference and stability, suitable for various industrial environments.
Scalability: If your industrial network needs to be continuously scaled, the IPQ5018 is scalable to meet the needs of different scales.
3. IPQ8072 and IPQ8074: High performance and future readiness
If you need the highest performance and future-ready WiFi 6 industrial router, the IPQ8072 and IPQ8074 are ideal for you:
WiFi 6 Standard support: They support the latest WiFi 6 standard, offering higher speeds, more capacity, and lower latency.
Multi-band support: The IPQ8072 and IPQ8074 support multiple WiFi bands, including the 6GHz band, to meet the needs of different bands and reduce interference.
Low latency: For industrial applications that require real-time response, their low latency features ensure timely data transmission.
How to choose?
When choosing a WiFi 6 industrial router, consider your specific needs and budget first. If you need high performance but are on a budget, the IPQ6010 may be the best choice. If you need more functionality and stability, consider the IPQ5018. If you need future readiness and maximum performance, the IPQ8072 and IPQ8074 will be better choices.
No matter which WiFi 6 industrial router you choose, Qualcomm's product line represents the best combination of reliability, stability and performance that will help you achieve an efficient and intelligent industrial network. Connect to the future, starting with Qualcomm's WiFi 6 industrial router.
Wallys software technology advantages:
Wallys has 10 years of experience in software development and is very experienced in uboot, Linux, wifi protocol, wifi performance, OS and other systems. It mainly uses Qualcomm chips to develop important software such as drivers and kernels, and has the ability to modify and compile to meet customers' different wifi functional requirements. Meanwhile, it participates in openwrt organization and code development. wifi5 product DR40x9 has been officially supported by openwrt.
Hardware technology advantages:
We have a strong hardware design team, and experienced people know that the most difficult part of hardware design is RF circuit design, baseband, etc., while wallys team made 0 error to achieve signal integrity, such as frequency conversion of network card, from 2.4G to 900M, which is a technological breakthrough.
Clients: TIP,Facebook, Openwrt, etc
Email:sales@wallystech.com