High-performance 4-core processor-IPQ9554-IPQ8072-more advanced Wi-Fi 6E technology
IPQ9554 and IPQ8072 are both high-performance network processor chips commonly used in wireless routers and network equipment. They are both products of Qualcomm and have some different features and advantages. Here are the main advantages and differences of each of them: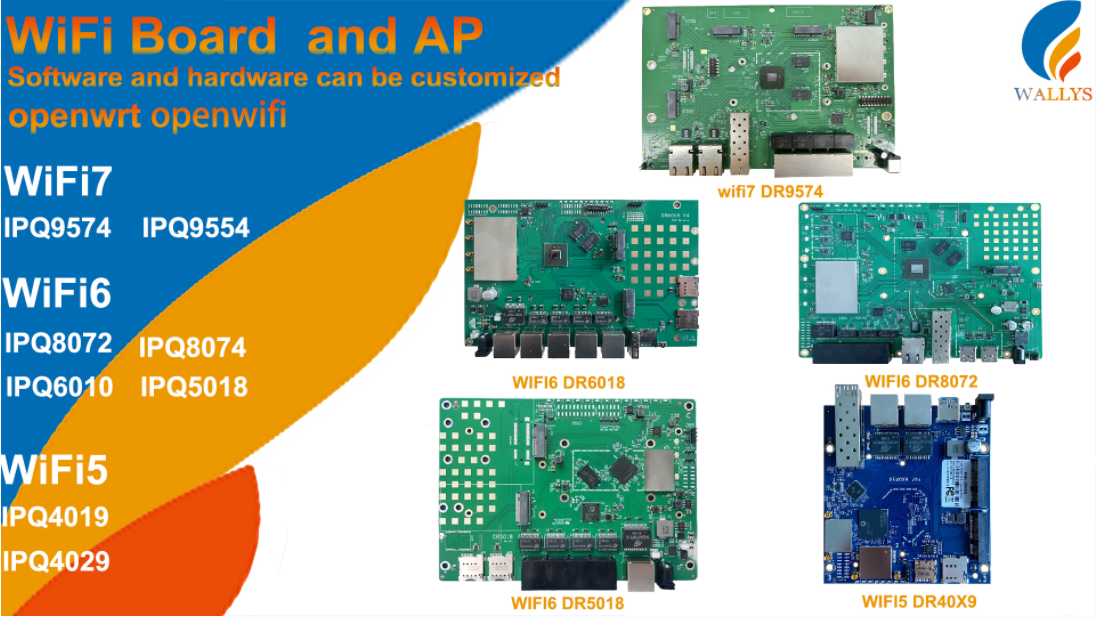 IPQ9554:
Frequency Band Support: The IPQ9554 typically supports the 2.4 GHz and 5 GHz frequency bands, which are part of the 802.11ac standard.
Wi-Fi technology: It supports the 802.11ac Wave 2 standard, which is a high-speed Wi-Fi technology commonly known as Wi-Fi 5. It can provide high-speed data transmission speeds and supports MU-MIMO (Multi-User Multiple Input Multiple Output) technology, which improves performance when multiple devices are connected at the same time.
Processing performance: IPQ9554 is a 4-core processor with a frequency of up to 1.7 GHz for each core, so it has powerful computing performance. This makes it suitable for high-speed data transfer and multitasking.
Wireless performance: IPQ9554 supports the 802.11ac Wave 2 standard, providing high-speed Wi-Fi connection speeds to meet most home and business network needs.
MU-MIMO support: It supports MU-MIMO (Multi-User Multiple Input Multiple Output) technology, which can provide more stable and efficient wireless connections for multiple devices at the same time, improving network performance.
Multiple ports: IPQ9554 typically has multiple Ethernet ports to support the connection of more wired devices, which is useful in enterprise environments.
Integrated hardware security: It supports hardware encryption and security features to provide better network security.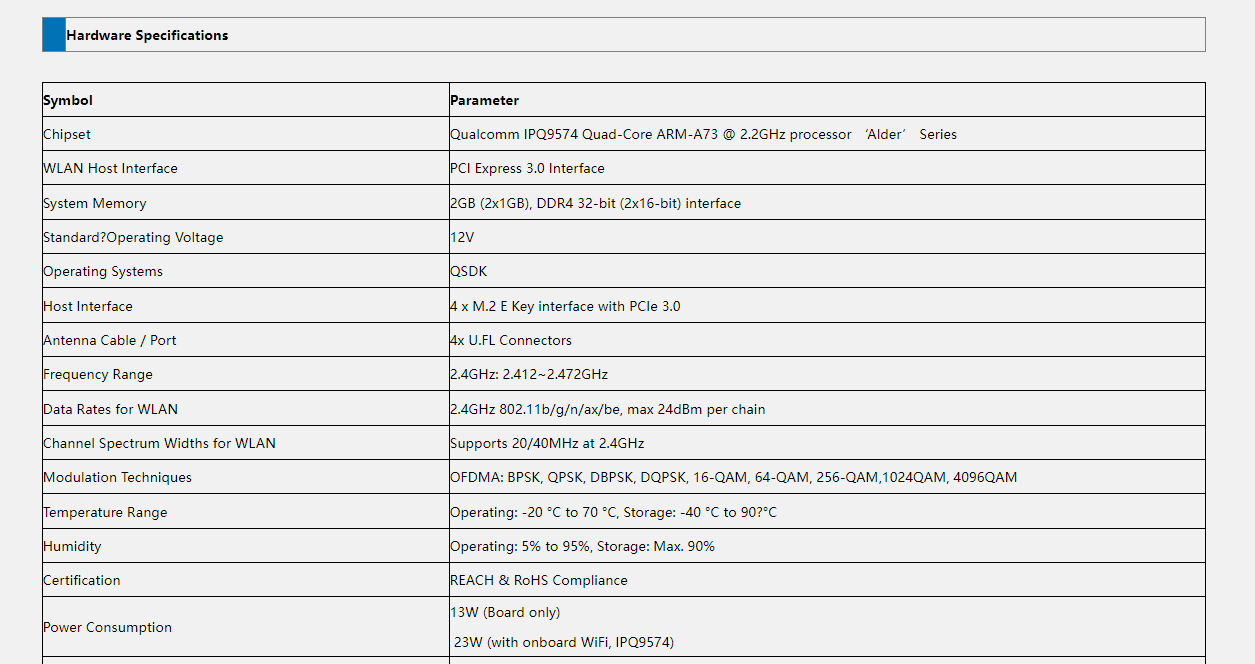 IPQ8072:
Processing performance: IPQ8072 is also a high-performance chip with a 4-core processor. The frequency of each core can be up to 2.2 GHz, so its processing power is slightly higher than IPQ9554.
Wi-Fi 6E support: IPQ8072 supports the latest Wi-Fi 6E standard, which can provide faster wireless speeds and better network capacity. This is useful for connecting large numbers of devices and handling high-density network traffic.
More antenna support: It typically supports more antenna connections, helping to provide wider coverage and better performance.
Security features: Like IPQ9554, IPQ8072 also supports hardware encryption and security features to ensure network security.
Frequency band support: IPQ8072 typically supports 2.4 GHz, 5 GHz and 6 GHz frequency bands. The 6 GHz band is part of the Wi-Fi 6E standard, an extension of Wi-Fi 6 that provides faster wireless connections to more available spectrum.
Wi-Fi technology: It supports Wi-Fi 6E standard, which is the latest Wi-Fi technology that provides higher speed, lower latency and better performance. Wi-Fi 6E operates on the 6 GHz band, which reduces interference and provides a wider spectrum to support more devices and higher network capacity.
Features
■ Qualcomm Atheros IPQ8072A AR Quad Core CPU
■ On-board 5GHz radio, up to 2475 Mbps physical data rate,On-board 2.4GHz radio, up to 1147Mbps physical data rate
■ 8 MB NOR Flash, 256MB NAND Flash(NAND Flash can be up to 1GB as optional)
■ Support 11ax TX Beamforming,Support 11ac/ax MU-MIMO DL and UL,Support OFDMA DL and UL
■ Supports Dynamic Frequency Selection (DFS)
■ DDR 1GB DDR3L(Support DDR3L can be up to 2GB as optional)
■ M.2 connector can support QCN9074 production
To sum up, IPQ9554 is suitable for most home and small business networks, with strong performance and wide range of applications. The IPQ8072 is more suitable for network environments that require higher performance and more advanced Wi-Fi 6E technology, especially for high-density and large-scale enterprise networks, it may be a better choice.
Wallys software technology advantages:
Wallys has 10 years of experience in software development and is very experienced in uboot, Linux, wifi protocol, wifi performance, OS and other systems. It mainly uses Qualcomm chips to develop important software such as drivers and kernels, and has the ability to modify and compile to meet customers' different wifi functional requirements. Meanwhile, it participates in openwrt organization and code development. wifi5 product DR40x9 has been officially supported by openwrt.
Hardware technology advantages:
We have a strong hardware design team, and experienced people know that the most difficult part of hardware design is RF circuit design, baseband, etc., while wallys team made 0 error to achieve signal integrity, such as frequency conversion of network card, from 2.4G to 900M, which is a technological breakthrough.
Clients: TIP,Facebook, Openwrt, etc
Email:sales@wallystech.com