DR5018M|IPQ5018 11AC SOM WIFI6 Pioneering the Future of Wireless Innovation
In a rapidly evolving tech landscape, innovation is the driving force behind progress. Today, I'm excited to introduce you to a groundbreaking solution that's set to redefine the world of wireless systems and embedded devices – the DR5018M.
Simplifying Complexity, Empowering Creation
At the core of DR5018M is a vision to simplify complexity and empower creators to bring their ideas to life seamlessly. With a pedigree of cutting-edge technology, this Wi-Fi 6 System-on-Module (SoM) is tailor-made for a myriad of applications, from the Internet of Things (IoT) to cutting-edge networking.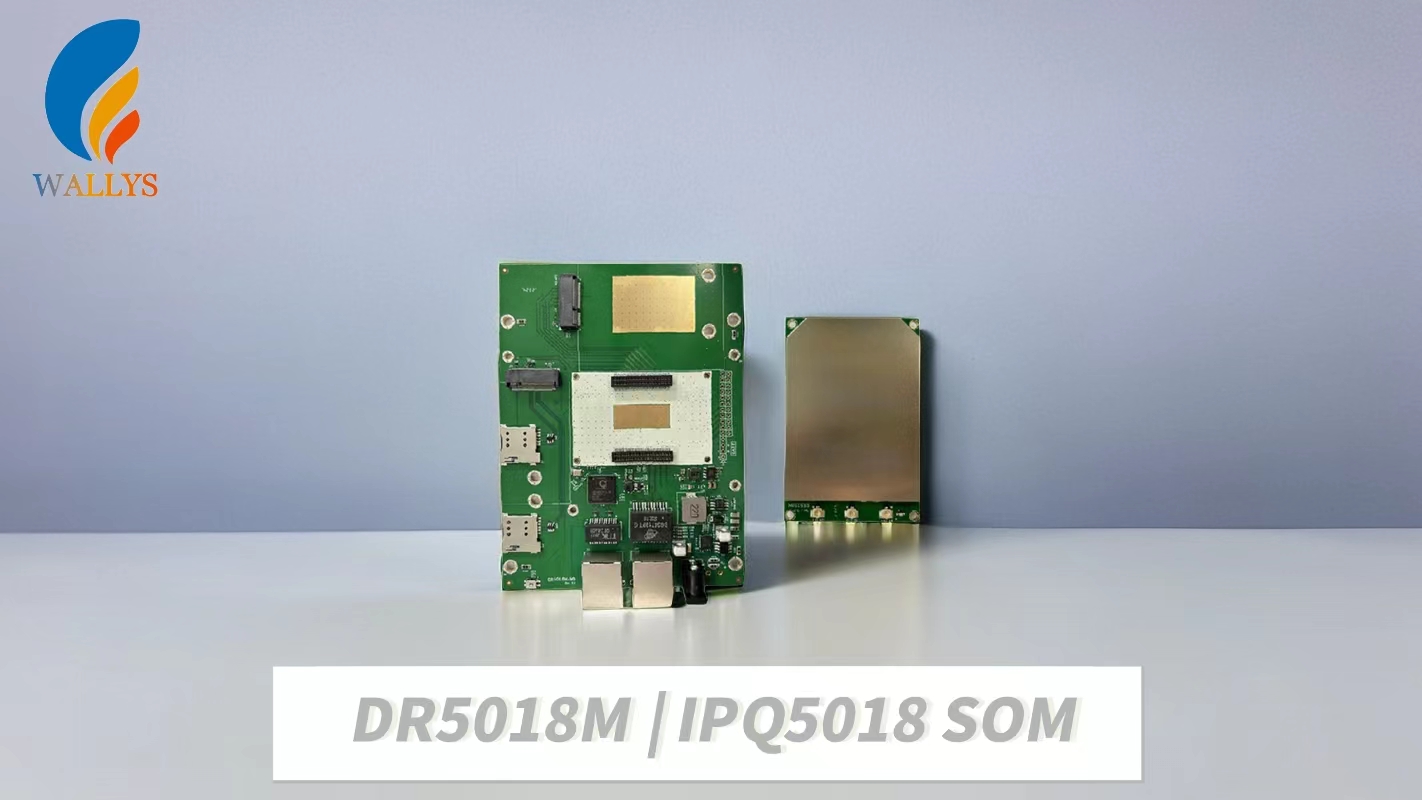 Fueling Possibilities with Unmatched Performance
At the heart of DR5018M lies the IPQ 5018 SoC, a powerhouse that drives performance to new heights. Embracing a 64-bit quad-core ARM Cortex A53 processor clocked at an impressive 1.0 GHz, DR5018M is built to handle the demands of modern applications. Boasting two spatial streams (2×2 MiMo), it's not just a module – it's a gateway to uninterrupted connectivity.
A Fusion of Adaptability and Efficiency
DR5018M seamlessly integrates into your design aspirations. With a form factor reminiscent of simplicity, amplifying its functionality. From adaptability to enhanced efficiency, DR5018M effortlessly adapts to your unique project requirements.
Enduring Challenges, Embracing Reliability
Challenges are inevitable, but DR5018M is built to endure. Operating within a temperature range of -40 – 70 °C, this module is your steadfast partner, whether you're navigating the intensity of a data center or the unpredictability of the great outdoors.
Community at the Core
Our commitment to collaboration runs deep. With the DR5018M, we open doors to a vibrant community ecosystem. Through Openwifi, we invite you to connect, share insights, and access expert support on your journey of innovation.
Embark on a Journey of Limitless Innovation
DR5018M isn't just a product; it's a testament to the boundless possibilities of wireless innovation. Whether you're shaping the future of IoT or revolutionizing networking solutions, the DR5018M is your catalyst. It's time to transcend boundaries, supercharge your development, and redefine what's possible in the world of wireless systems.
Join us on this journey of innovation and exploration. Connect with us today to be a part of the wireless revolution.
Qualcomm IPQ5018 Chip
IPQ5018 is an advanced embedded processor developed by Qualcomm, designed specifically for Wi-Fi network applications. It boasts a powerful quad-core ARM Cortex-A53 processor running at up to 1.0GHz, delivering exceptional computing and processing capabilities to handle diverse data and applications effectively.
One of the primary advantages of the IPQ5018 chip is its high-speed network connectivity. It supports multiple Wi-Fi standards, including 802.11ac, 802.11ax, and is backward compatible with 802.11a/b/g/n. This enables seamless dual-band Wi-Fi connectivity and ensures fast network transmission speeds.
Security is a top priority for the IPQ5018 chip. It incorporates various security features and encryption algorithms, such as WPA3, AES encryption, and TLS/SSL, guaranteeing the safety and reliability of network data transmission, protecting against potential threats.
Flexibility is another key strength of the IPQ5018 chip. It supports a wide range of peripheral interfaces, including USB, PCIe, allowing easy connectivity and communication with other devices. Furthermore, it is compatible with multiple operating systems, such as Linux and Android, offering exceptional flexibility, scalability, and reliability for diverse applications.
In addition to its high-performance capabilities, the IPQ5018 chip is engineered for low power consumption and heat generation. Leveraging advanced manufacturing technology and energy-saving design, it is ideally suited for various embedded application scenarios, including smart homes, Internet of Things (IoT), and smart manufacturing.
Overall, the IPQ5018 stands as a cutting-edge embedded processor, combining high performance, secure network connectivity, flexibility, and energy efficiency, making it a top choice for Wi-Fi network applications in modern technological landscapes.
Wallys has recently launched a new WiFi 6 SoC, the DR5018M, which builds upon the performance of the IPQ5018 while offering a smaller form factor. When combined with a customized baseboard, it becomes suitable for a wider range of applications. The DR5018M allows for customized selection of Ethernet ports, making it a more flexible choice for hardware used in IIOT, smart cities, and smart ports, among other applications. The DR5018M shares similarities with the DR5018, and below are some compatible configurations:
Key feature of DR5018:
Dual-core ARM 64bit A53@1.0GHz Processor
512MB DDRL3L System Memory
4MB NOR Flash, 128MB NAND Flash
2×2 On-board 2.4GHz radio,up to 573Mbps physical Data Rate
Support BT5.1
M.2 Card Slot for 5G (QUECTEL RM 500Q-GL) ;
M.2 Card Slot for QCN9074 WIFI 6E Card
Support Openwifi
Low Cost WIFI6E QCN6122 Solution DR6122
DR6122-6E based on QCN6122 Chipset is an enterprise wireless module integrated with
2 x 2 MU- MIMO 6 GHz Single Band Wireless Module designed specifically to provide users withmobile access to high- bandwidth video streaming, voice, and data transmission for office andchallenging RF environment in factories, warehouses establishment.
Features
■ Qualcomm Atheros QCN6122
■ 6GHz, max 23dBm per chain, up to 2402Mbps
■ Single Band 6GHz 2×2 WiFi 6E (802. 11ax)
■ 2 spatial streams (2SS)
■ M.2 E Key Interface
■ PCI Express 3.0 Interface
Low Cost WIFI6 5G QCN6102 Solution
DR5018:Support 2.412GHz~2.472Ghz
DR5018+DR6102-5G:Support 2.412GHz~2.472Ghz-5.180GHz ~5.825Ghz
DR5018+DR6122-6E:Support 2.412GHz~2.472Ghz-5.925GHz~7.125GHz
Higher Performance WIFI6 6E QCN9074-6E Solution
Features
■ Qualcomm Atheros QCN9074
■ 6GHz, max 23dBm per chain, up to 4949Mbps
■ Single Band 6GHz 4×4 WiFi 6E (802.11ax)
■ 4 spatial streams (4SS)
■ M.2 E Key Interface
■ PCI Express 3.0 Interface
Higher Performance WIFI6 5G QCN9074-5G Solution
Features
■ Qualcomm Atheros QCN9074
■ 5GHz, max 23dBm per chain, up to 4949Mbps
■ Single Band 5GHz 4×4 WiFi 6 (802.11ax)
■ 4 spatial streams (4SS)
■ M.2 E Key Interface
■ PCI Express 3.0 Interface
■ Supports Dynamic Frequency Selection (DFS)
For more customized WiFi solutions, please contact Wallys sales team for further inquiries. They have a dedicated team of professionals, including software and hardware engineers, to support your projects and provide a one-stop service from hardware design to mass production. Wallys offers existing industrial WiFi 5, WiFi 6, and WiFi 7 solutions.
Email:Sales1@wallystech.com
Website:https://www.wallystech.com/