IPQ6010 IPQ6018 IPQ6000|20KM+ Long Range Connectivity Trial of DR6018-S Industrial Router
Suzhou, August 22, 2023 – In a recent milestone achievement, the Wallys Team has successfully concluded an extensive long-range connectivity test for their state-of-the-art DR6018-S Industrial Router. The trial, conducted at the serene Cao Lake in Suzhou, China, showcased the router's exceptional capabilities in maintaining a stable connection across distances of up to 20 kilometers.
Pushing Boundaries in Networking Solutions
Wallys, a prominent figure in the networking solutions industry, has engineered the DR6018-S Industrial Router. Rigorous testing was conducted to assess its performance under demanding long-range conditions. The trial site at Cao Lake provided a spectrum of environmental challenges, replicating real-world connectivity scenarios.
Testing Performance in Industrial Scenarios
Test site and environment Suzhou
The core objective of the test was to evaluate the router's prowess in establishing and sustaining reliable connections over extended distances. This attribute holds paramount importance for various industrial applications such as remote monitoring, surveillance, and seamless data transmission. To ensure precise and unbiased results, the Wallys Team deployed an intricate testing setup, integrating multiple data points, signal strength analyzers, and comprehensive monitoring equipment.
Impressive Milestones Reached
Test equipment: AP-DR6018-S outdoor
Throughout the trial, the DR6018-S Industrial Router consistently demonstrated its capabilities by maintaining uninterrupted connections spanning up to 23 kilometers. This achievement carries profound implications for industries seeking seamless communication over expansive areas, including agriculture, mining, and large-scale infrastructure ventures.
Mr. Zhu, Wallys' Chief Technology Officer, expressed his contentment with the test outcomes. He emphasized the team's commitment to engineering networking solutions that surpass industry standards. He stated, "The success of the DR6018 in this connectivity trial reaffirms our dedication to delivering reliable and high-performance products."
Unlocking Industrial Networking Potential
The affirmative results of this test position the DR6018-S Industrial Router as a potential game-changer in the realm of long-range industrial networking. With its exceptional range and stability, the router holds the potential to revolutionize remote connectivity strategies across industries, unleashing new avenues for operational efficiency and productivity enhancements.
Pioneering Future Networking Technology
Test equipment: AP-DR6018-S outdoor
As industries venture into remote and demanding environments, the success of the DR6018-S Industrial Router's connectivity trial marks a significant stride towards shaping the future of industrial networking technology. Wallys remains steadfast in its pursuit of innovation, with the DR6018-S exemplifying their unwavering dedication.
In Conclusion
In summary, the recent DR6018-S Industrial Router connectivity test conducted by the Wallys Team at Cao Lake in Suzhou has yielded remarkable outcomes. Its ability to establish and sustain reliable connections across extensive distances signifies its potential to redefine industrial networking possibilities. This accomplishment further solidifies Wallys' position as a pioneering leader in the realm of networking solutions.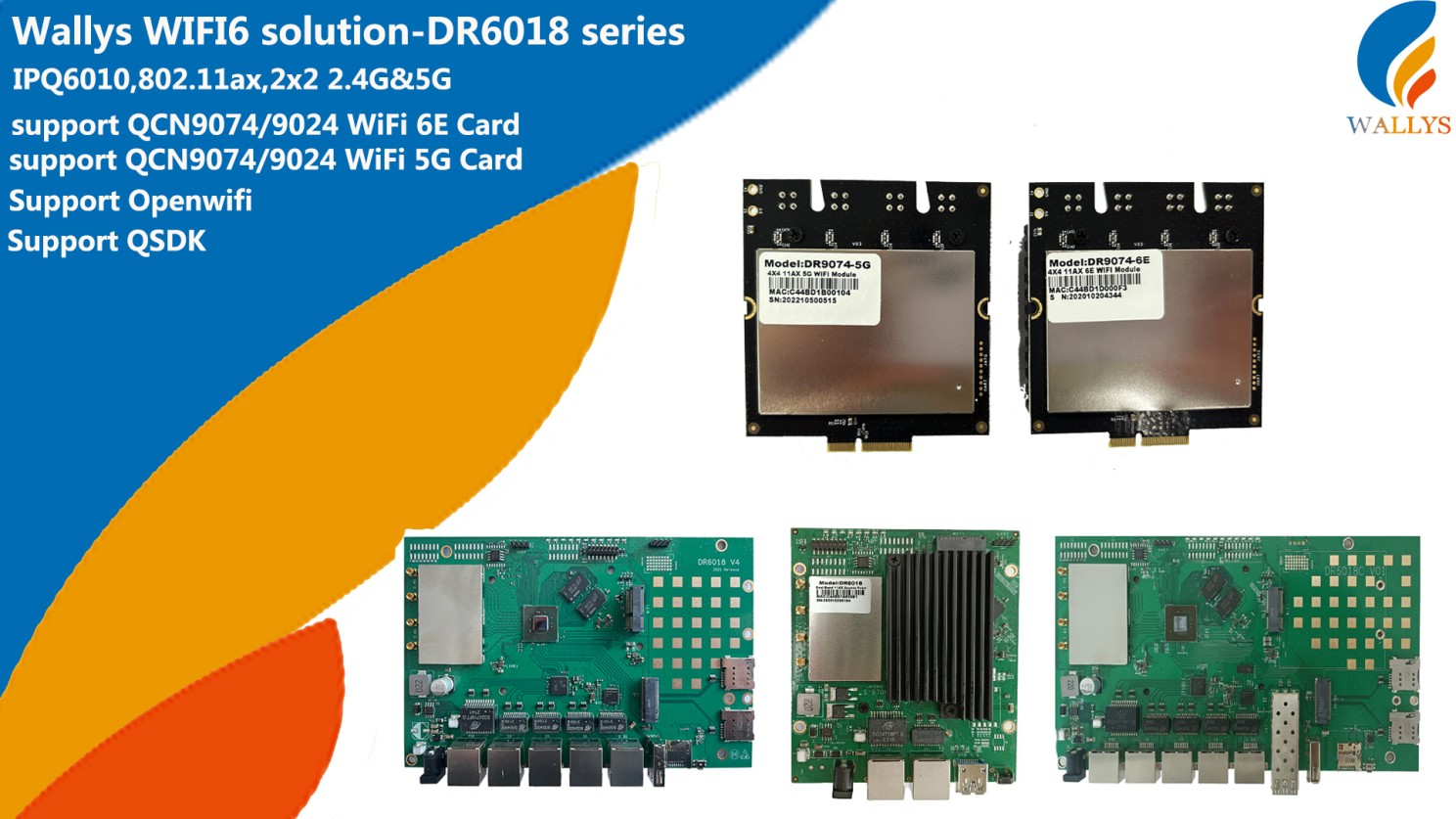 Hardware
DR6018-S Wifi 6 Mainboard-Long Range
DR6018-S V02 Long Range
IPQ6010/IPQ6018/IPQ6000
Quad-core ARM 64bit A53 @1.8GHz Processor
1GB DDRL3L System Memory
8MB NOR Flash, 256MB NAND Flash
Supports Dynamic Frequency Selection (DFS)
2×2 On-board 2.4GHz radio, up to 573Mbps physical Data Rate
2×2 On-board 5GHz radio, up to 1201Mbps physical Data Rate
Support Openwifi
Support QSDK
Website:https://www.wallystech.com/Routerboard/DR6018-S-V02-wifi6-Qualcomm-IPQ6010-2T2R-2-GE-port-supporting-QCN9074-wifi-card-802.11AX-MU-MIMO-OFDMA.html
About Wallys
Wallys stands at the forefront of the networking solutions industry, consistently delivering cutting-edge products tailored to meet the evolving demands of industrial connectivity. With an unwavering focus on innovation, reliability, and excellence, Wallys continually pushes boundaries, empowering industries to achieve unparalleled communication capabilities in even the most challenging environments.
For more information about Wallys and our groundbreaking solutions, visit our official website: https://www.wallystech.com or contact us at sales1@wallystech.com