WIFI7 QCN9274 -WIFI6E QCN9074 chip difference MU-MIMO+TWT technology
QCN9274 is a powerful WiFi chip that supports the latest WiFi 6 (802.11ax) standard and has many excellent features. The following are some key features of QCN9274:
High-speed transmission: QCN9274 adopts the latest WiFi 6 technology, which can provide higher wireless transmission speed and larger capacity. It enables faster data transfer rates than previous WiFi standards, enabling users to download, upload and stream content faster.
Multi-device connection: QCN9274 supports multi-user multiple-input multiple-output (MU-MIMO) technology, which can handle data transmission of multiple devices at the same time. This means that users can connect more devices at the same time without worrying about network congestion and performance degradation, providing a better network experience for multi-device home and office environments.
Low latency: QCN9274 adopts Target Wake Time (TWT) technology, which can effectively reduce network latency. This is very important for real-time applications, such as online games, video calls and interaction of IoT devices, which can provide faster and real-time data transmission.
Strong coverage: QCN9274 has enhanced signal transmission capability and can provide wider wireless coverage. This means users can get a stable network connection over longer distances, while reducing connection interruptions and performance degradation caused by signal weakening.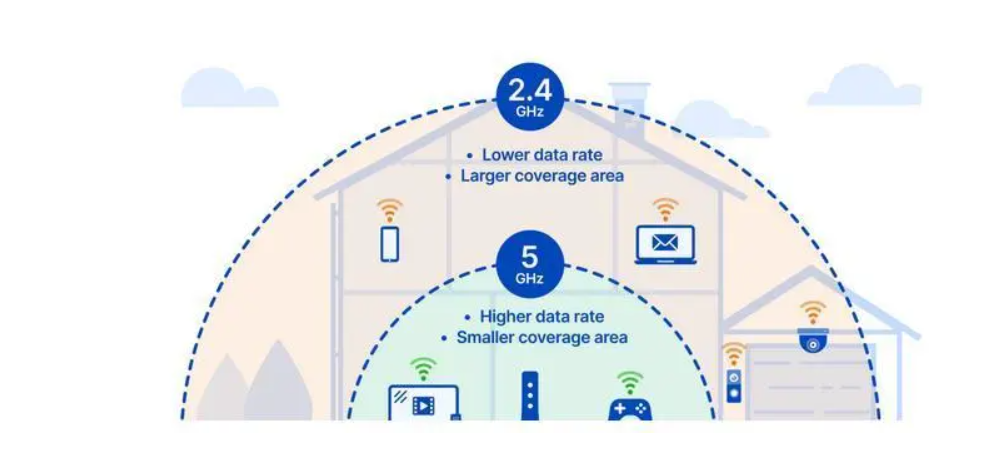 Energy efficiency optimization: QCN9274 adopts low power consumption design, which effectively reduces energy consumption. It intelligently manages power, adjusting as needed, providing efficient wireless connectivity while maximizing device battery life.
Security guarantee: QCN9274 supports the latest wireless security protocols, including WPA3 and Easy Connect of Wi-Fi Alliance. It provides stronger encryption and authentication functions to protect users' network connections from potential security threats.
Flexible deployment methods: QCN9274 is suitable for various deployment scenarios, including homes, offices and public places. It can work with different types of routers, gateways and extension devices to achieve flexible network expansion and management.
As a powerful chip that supports the WiFi 6 standard, QCN9274 has high-speed transmission, multi-device connection, low latency, and strong coverage
"QCN9074" is a member of Qualcomm's IPQ series of chips, designed for networking applications. The chip is suitable for routers, access points and other wireless devices, and is designed to provide excellent network performance and a reliable connection experience.
Key features and functions of the QCN9074 include:
High-performance processor: QCN9074 is equipped with a powerful multi-core processor, which can handle complex network tasks and ensure network stability and efficient performance.
Support for the latest Wi-Fi standard: The chip supports the latest Wi-Fi 6 (802.11ax) standard, providing faster wireless speeds, greater bandwidth, and lower latency to meet growing data demands.
MU-MIMO and OFDMA technology: QCN9074 supports MU-MIMO (multi-user multiple-input multiple-output) and OFDMA (orthogonal frequency-division multiple access) technologies, enabling the router to simultaneously process data streams from multiple devices, providing higher network efficiency and a more stable connection.
Intelligent Network Management: The chip is equipped with Qualcomm's intelligent network management technology, which can optimize network traffic, provide excellent performance and stable connection, while minimizing interference.
Security and privacy protection: QCN9074 uses Qualcomm's security technology to ensure the security and privacy protection of network connections and ensure the safe transmission of user data.
Whether you are an ordinary user or a network professional, QCN9074 can provide you with an excellent network connection experience. It can meet the needs of high-performance network equipment and bring users fast, stable and secure wireless connections.
Wallys has over 15 years of research and development experience, experienced in linux, wifi protocol and other aspects, Qualcomm chip development drivers, kernel and other important software development, modification and compilation, to meet customers' different wifi functional needs.
We have a strong hardware design team, and experienced people know that the most difficult part of hardware design is RF circuit design, baseband, etc., while wallys team made 0 error to achieve signal integrity, such as frequency conversion of network card, from 2.4G to 900M, which is a technological breakthrough.
Clients: TIP,Facebook, Openwrt, etc
Email:sales@wallystech.com
WEB:https://www.wallystech.com/