AP controller-centralized management-support-IPQ6010-IPQ5018-IPQ4019 motherboard
AP controller is a network device used to manage and control multiple APs in a wireless network. It plays an important role in enterprises or large organizations to centrally manage and configure APs, providing a higher level of network control and monitoring. The following are the main functions of the AP controller:
Centralized management:
AP controller allows centralized management and configuration of a large number of APs. Administrators can configure all AP parameters at one time through the controller, such as wireless network name (SSID), security settings, transmission power, etc. This simplifies network administration and improves configuration consistency.
AP controller can provide advanced network security functions. It centrally manages and enforces security policies such as user authentication, access control lists (ACLs), and encryption settings. Administrators can use the controller to secure the network from unauthorized access and malicious activity.
load balancing:
The AP controller can automatically perform load balancing according to the network load. It can monitor the number of connections and transmission rates of APs, and dynamically allocate clients to available APs to avoid performance degradation caused by overloading of an AP. This helps improve the throughput and reliability of the overall network.
Failure detection and failover:
The AP controller can monitor the status and connection quality of the AP. If an AP fails or the quality of the connection degrades, the controller can quickly detect it and take appropriate action. It can automatically switch clients to other available APs to ensure network connectivity and availability.
statistic and analysis:
The AP controller can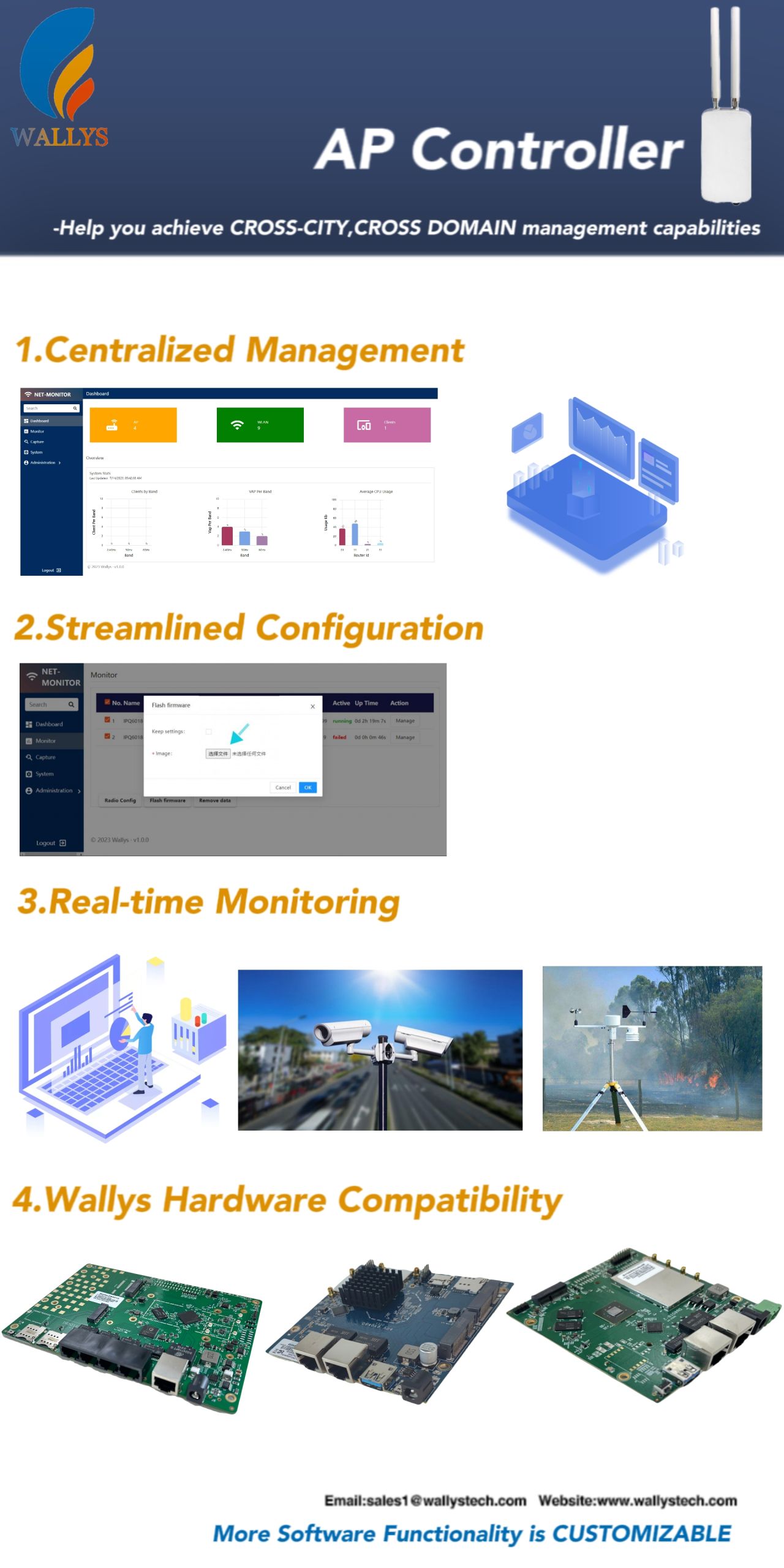 collect and analyze data related to the wirel
ess network. It provides statistics on client connections, data traffic, signal strength, and network performance. This data can help administrators understand network usage, bottlenecks, and opportunities for improvement.
Below is a schematic diagram showing the relationship between the AP controller and multiple APs:
In the schematic diagram, the AP controller is located at the core of the network and is connected to multiple APs. Administrators can centrally manage and configure APs through the controller to achieve more efficient network control and monitoring.
Exciting news! 🎉 Introducing Wallys AP Controller, your key to simplified and efficient network management. Say goodbye to complexity and hello to streamlined operations. 🚀 Explore the limitless potential of our AP Controller and unlock the power of efficient network man agement. 💪
Wallys has over 15 years of research and development experience, experienced in linux, wifi protocol and other aspects, Qualcomm chip development drivers, kernel and other important software development, modification and compilation, to meet customers' different wifi functional needs.
We have a strong hardware design team, and experienced people know that the most difficult part of hardware design is RF circuit design, baseband, etc., while wallys team made 0 error to achieve signal integrity, such as frequency conversion of network card, from 2.4G to 900M, which is a technological breakthrough.
Clients: TIP,Facebook, Openwrt, etc
Email:sales@wallystech.com
WEB:https://www.wallystech.com/