IPQ9554-IPQ6010 support QCN9274-QCN9074 to achieve triple-band 2.4G, 5G, 6E, up to 9.6 Gbps rate
The development of wireless network technology is unstoppable. As a leading manufacturer of wireless equipment, Wallys is proud to launch two outstanding chip router products: IPQ9554 and IPQ6010. Let's explore the unique features and functions of these two chips and experience the next revolution in wireless networking.
As one of the main chips of wifi7 router, IPQ9554 has the power to break through the limit. As an ideal choice for high-performance routers and wireless access points, the IPQ9554 chip is well-known for its excellent processing power and excellent performance. The chip uses an advanced quad-core ARM Cortex A53 architecture with a frequency of up to 2.2 GHz, providing excellent computing power and responsiveness. Whether dealing with complex network tasks, or running multiple applications, IPQ9554 can easily do it. The wifi7 router designed by wallys is 4×4 2.4G, and the motherboard has 4 M.2 card slots to meet the needs of more wifi frequency band functions.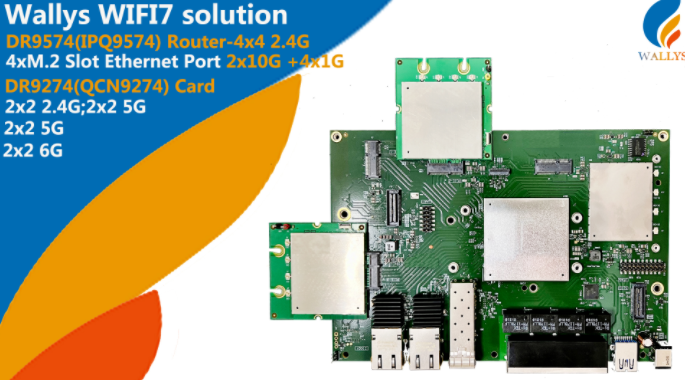 In addition to powerful processing capabilities, IPQ9554 also has excellent wireless performance. It supports the latest Wi-Fi 6 standard, offering data transfer rates of up to 9.6 Gbps. Ethernet adopts 10G, whether it is high-speed download, smooth high-definition video streaming or extremely low-latency gaming experience, IPQ9554 can meet the needs of users. More importantly, it adopts advanced MU-MIMO and OFDMA technology to achieve higher network capacity and more stable connection, providing users with wider network coverage and faster data transmission speed.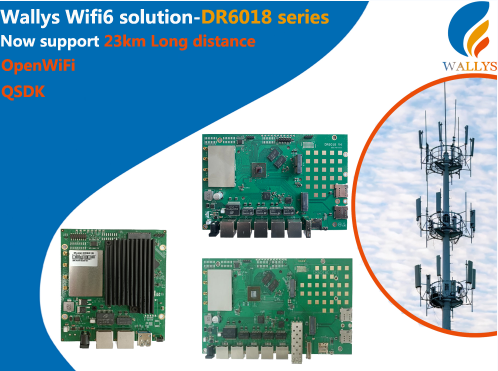 Compared with IPQ9554, IPQ6010 is a chip specially designed for IoT devices. In the era of the Internet of Things, our lives are increasingly dependent on the connection of smart devices. The IPQ6010 chip plays a key role in this field. It uses a low-power quad-core ARM Cortex A53 architecture with a frequency of up to 1.8 GHz, which can not only meet the computing needs of the device, but also ensure excellent energy efficiency performance. The wifi6 router designed by Wallys with IPQ6010 as the main chip is trusted by customers, both in terms of performance and software, and has been recognized by customers. At the same time, it supports customization and meets the different wifi needs of customer projects. The commonly used version is 2×2 2.4G, 2×2 5G, and supports the M.2 card of QCN9074 as the main chip at the same time, realizing the triple-band function 2.4G, 5G, 6E.
The IPQ6010 also excels in terms of connectivity. It supports the latest Wi-Fi 6E standard, has a wider spectrum range, and provides data transfer rates up to 7.8 Gbps. Whether for smart home, smart health monitoring devices or smart city applications, the IPQ6010 provides reliable connectivity and superior performance. In addition, it also supports multiple wireless communication protocols such as Bluetooth 5.2 and Zigbee.
Wallys has over 15 years of research and development experience, experienced in linux, wifi protocol and other aspects, Qualcomm chip development drivers, kernel and other important software development, modification and compilation, to meet customers' different wifi functional needs.
We have a strong hardware design team, and experienced people know that the most difficult part of hardware design is RF circuit design, baseband, etc., while wallys team made 0 error to achieve signal integrity, such as frequency conversion of network card, from 2.4G to 900M, which is a technological breakthrough.
Clients: TIP,Facebook, Openwrt, etc
Email:sales@wallystech.com
WEB:https://www.wallystech.com/