IPQ9574 with M.2 module QCN9274—wifi7 wireless connection
In modern industrial environments, stable and efficient wireless connectivity has become critical. Traditional wired connections limit device flexibility and ease of deployment. Wireless development is very fast, from my wifi4, wifi5, wiif6, to the wifi7 that will be launched now, and the combination of IPQ9574 motherboard and QCN9274 M.2 module brings a new solution for industrial applications. Usher in new technological changes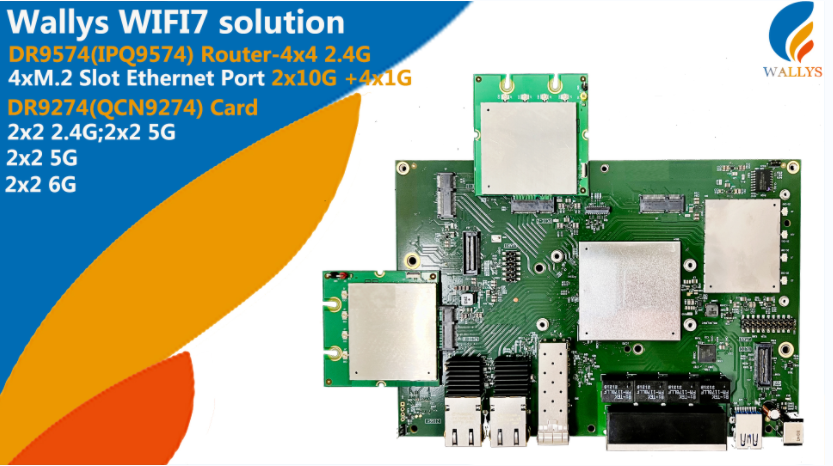 The IPQ9574 motherboard uses Qualcomm's advanced processor technology to provide powerful computing power and stability. It features industrial-grade durability and reliability to perform well in harsh working environments. The IPQ9574 motherboard also supports a variety of communication interfaces and expansion slots for easy connection and integration with other devices. Its superior performance and reliability make it ideal for industrial applications.
It uses the most advanced technology to provide excellent processing power and stability for wireless networks. IPQ9574 supports the latest wireless protocol, 802.11be, and the wifi7 motherboard designed by Wallys uses IPQ9574 Qualcomm chip and comes with 4XM.2 slot to meet the needs of more powerful wifi functions. And the board comes with 4×4 2.4G. This is a new technological breakthrough.
The Qualcomm chip QCN9274 M.2 module is an innovative wireless connection solution. It supports multiple wireless communication standards, such as Wi-Fi and Bluetooth, and can provide fast and reliable wireless connections on different frequency bands. QCN9274 supports multiple wireless frequency bands, including 2.4GHz, 5GHz, and 6GHz, making it adaptable to various wireless network environments. At the same time, QCN9274 also has excellent signal strength and stability, ensuring that you can get a fast and reliable network connection anywhere. The QCN9274 module has compact size and low power consumption, which is suitable for the integration of embedded systems and industrial equipment. Its high performance and stability ensure fast data transmission and real-time communication between industrial devices. At present, many wifi solution companies are developing and producing wifi products
However, Wallys' research and development time has gone further, and it has entered the production stage. There are different specifications of moudles, such as 2×2 5g, 2×2, 6g, 4×4 5g, 4×4, 6g, 4×4, 2.4g, to meet the needs of different customers for moudle frequency bands.
Using IPQ9574 motherboard with QCN9274 M.2 module, industrial application can get many benefits. First of all, wireless connection eliminates the limitation of wired wiring, which improves the flexibility of equipment and the convenience of deployment. Industrial equipment can be moved and arranged anytime and anywhere, no longer limited by wired connections. Second, wireless connectivity saves maintenance and management costs. Without complicated wired connections and wiring, maintenance personnel can manage and maintain industrial equipment more easily. Most importantly, wireless connectivity improves collaboration and interconnection between industrial devices. Real-time communication and data sharing can be realized between devices, improving production efficiency and optimizing workflow.
Wallys has over 15 years of research and development experience, experienced in linux, wifi protocol and other aspects, Qualcomm chip development drivers, kernel and other important software development, modification and compilation, to meet customers' different wifi functional needs.
We have a strong hardware design team, and experienced people know that the most difficult part of hardware design is RF circuit design, baseband, etc., while wallys team made 0 error to achieve signal integrity, such as frequency conversion of network card, from 2.4G to 900M, which is a technological breakthrough.
Clients: TIP,Facebook, Openwrt, etc
Email:sales@wallystech.com
WEB:https://www.wallystech.com/