802.11AC(WIFI5) Tri-Band Solution|QCA 9882+PQ4019/IPQ4029 Highpower DR4019 DR882 Wallys
Unlocking the Power of Tri-Band Wi-Fi with QCA9882, IPQ4019, and IPQ4029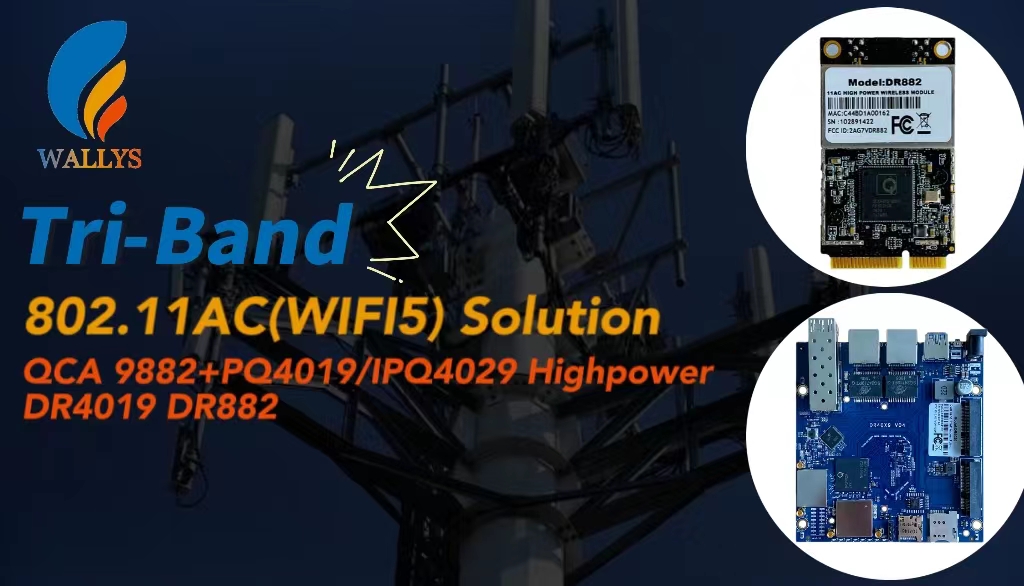 Introduction:
In today's hyper-connected world, reliable and high-performance Wi-Fi is essential for businesses and industries. The demand for faster data rates, increased capacity, and seamless connectivity has led to the development of advanced wireless networking technologies. One such solution that addresses these requirements is the tri-band Wi-Fi system. In this blog, we will explore the main components behind a tri-band Wi-Fi solution and shed light on the keywords that play a crucial role: QCA9882, IPQ4019, and IPQ4029.
Understanding 802.11ac (Wi-Fi 5) and QCA9882:
The 802.11ac standard, also known as Wi-Fi 5, has revolutionized wireless networking by providing faster speeds and improved performance. At the heart of many 802.11ac solutions lies the QCA9882 wireless chipset developed by Qualcomm Atheros. This chipset supports dual-band operation, enabling devices to operate in both the 2.4 GHz and 5 GHz frequency bands.
Click below the link for more information about DR882:
https://www.wallystech.com/Network_Card/DR882-Qualcomm-Atheros-QCA9882-2T2R-MIMO-802.11ac-Mini-PCIe-Wi-Fi-Module-5G-high-power.html
Introducing IPQ4019 and IPQ4029 SoCs:
To further enhance the capabilities of wireless devices, Qualcomm Atheros has developed the IPQ4019 and IPQ4029 system-on-chip (SoC) processors. These processors are designed specifically for networking applications and serve as the brains behind high-performance Wi-Fi routers and access points.
Click below the link for more information about DR40x9:
https://www.wallystech.com/Routerboard/DR40X9-Qualcomm-IPQ-4019-4029-DUAL-BAND-802.11AC-WAVE2-MU-MIMO-ONBOARD-WIFI-RADIO-EMBEDDED-BOARD-supporting-LTE.html
DR4019: Dual-Band 802.11ac Solution:
Wallys, a renowned provider of wireless networking solutions, has introduced the DR4019. Built around the QCA9882 chipset, the DR4019 is a robust dual-band 802.11ac solution that operates in both the 2.4 GHz and 5 GHz bands. It delivers fast and reliable Wi-Fi connectivity, making it suitable for a wide range of applications.
Unlocking Tri-Band Potential with DR882:
To meet the demands of industrial projects with specific networking requirements, Wallys offers the DR882 card as an add-on to the DR4019. By incorporating the DR882 card, the DR4019 solution can achieve tri-band functionality. This means it can support an additional frequency band, unlocking the power of tri-band Wi-Fi.
Powerful Industrial Applications:
The combination of QCA9882, IPQ4019/IPQ4029, DR4019, and DR882 offers a powerful tri-band Wi-Fi solution that caters to industrial projects' unique demands. Whether it's a manufacturing facility, a warehouse, or a large-scale deployment, the tri-band feature ensures optimal performance, increased capacity, and reduced interference.
Benefits of Tri-Band Wi-Fi:
Tri-band Wi-Fi brings numerous benefits to industrial projects. Firstly, it allows for better distribution of devices across multiple frequency bands, reducing congestion and optimizing network performance. Secondly, the additional frequency band provides flexibility to allocate specific devices or applications to dedicated bands, minimizing interference. Lastly, tri-band Wi-Fi ensures seamless connectivity and improved user experience, supporting mission-critical operations.
Conclusion:
In the era of advanced wireless networking, the tri-band Wi-Fi solution incorporating QCA9882, IPQ4019, IPQ4029, DR4019, and DR882 has emerged as a game-changer. By leveraging the power of these components, industries can enjoy faster data rates, increased capacity, and reliable connectivity. Wallys' commitment to providing innovative networking solutions highlights the industry's continuous efforts to meet evolving demands. With tri-band Wi-Fi, industrial projects can operate with utmost efficiency, unlocking a new era of wireless connectivity.
If you have inquiries about bulk orders or customizations, don't hesitate to reach out to Wallys' sales team. We guarantee that you will receive prompt and satisfactory service from our team.
Email:sales1@wallystech.com (Lily)
Website: https://www.wallystech.com/