The IPQ8072 and IPQ8072A are both powerful networking SoCs (System-on-Chip) designed by Qualcomm for high-performance routers, enterprise Wi-Fi access points, and other networking equipment. These chips are part of Qualcomm's Networking Pro series and are well-suited for demanding applications in the high-end router and enterprise Wi-Fi access point segments.
The IPQ8072 and IPQ8072A share many similarities in terms of features and capabilities. They are both quad-core SoCs based on ARM architecture, featuring a powerful CPU and integrated networking accelerators. These chips support advanced networking technologies, including multi-user MIMO (MU-MIMO), beamforming, and the latest Wi-Fi standards such as 802.11ax (Wi-Fi 6) and 802.11ac Wave 2.
In terms of differences, the IPQ8072A is an enhanced version of the IPQ8072, offering higher clock speeds and potentially improved performance. The specific improvements may vary based on the implementation and configuration chosen by the device manufacturer.
The QCN9074 is a Wi-Fi 6/6E chipset designed by Qualcomm that complements the IPQ8072/8072A. It is a highly integrated solution that provides advanced Wi-Fi connectivity for devices such as routers and access points. The QCN9074 chipset supports 4×4 MU-MIMO and 160 MHz channel bandwidth, enabling high-speed data transfer and increased capacity in dense environments.
Overall, the combination of IPQ8072 or IPQ8072A with the QCN9074 chipset is well-suited for high-end routers, enterprise Wi-Fi access points, and other networking equipment requiring robust performance and advanced Wi-Fi capabilities. These chips provide a solid foundation for building reliable and high-performing networking devices for demanding environments.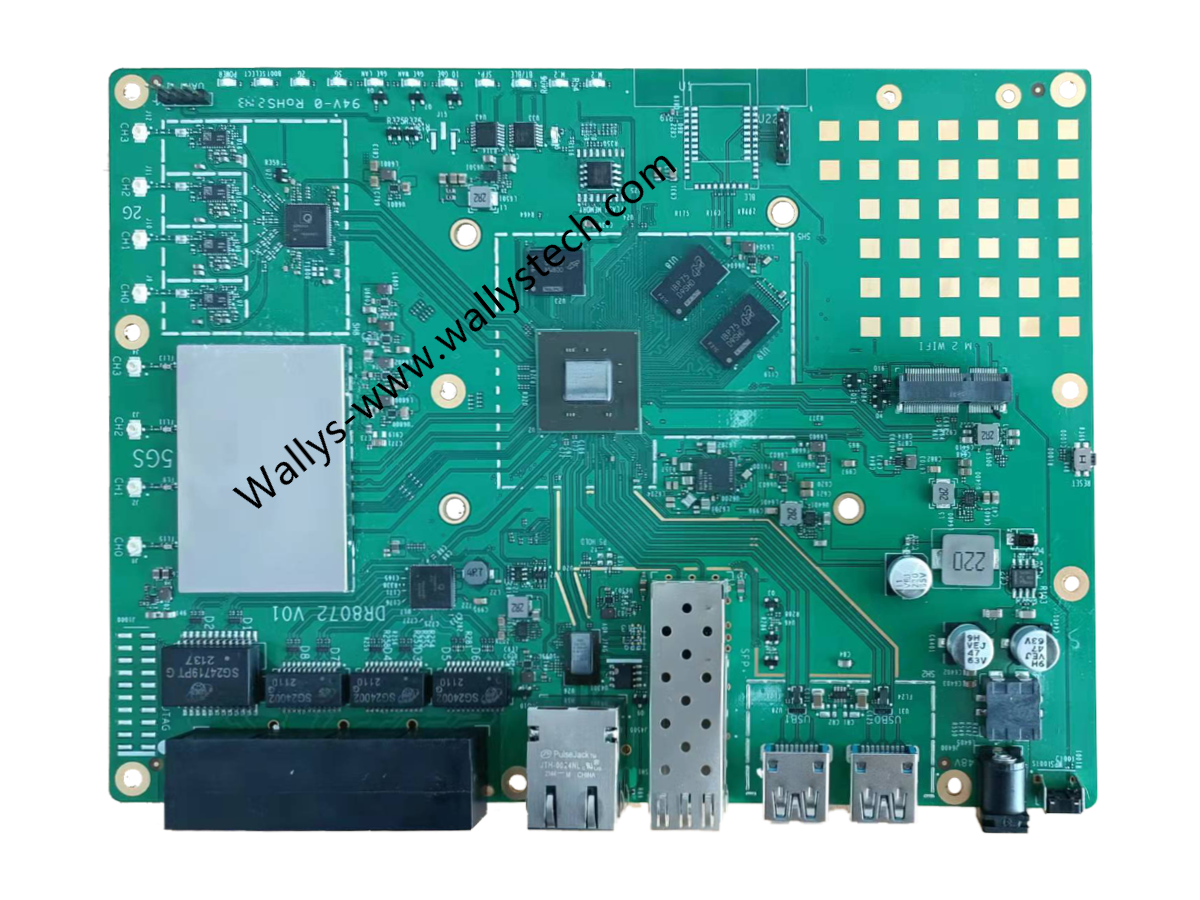 Features
■ Qualcomm Atheros IPQ8072A/IPQ8072 AR Quad Core CPU
■ On-board 5GHz radio, up to 2475 Mbps physical data rate 8 MB NOR Flash, 256MB NAND Flash
■ On-board 2.4GHz radio, up to 1147Mbps physical data rate
■ Support 802.11ac TX Beamforming
■ Support 802.11ac/802.11ax MU-MIMO DL and UL
■ Support OFDMA DL and UL
■ Tri-band support with 5G SBS (4×4/5GHz ) + 4×4/2.4GHz
■ Supports Dynamic Frequency Selection (DFS)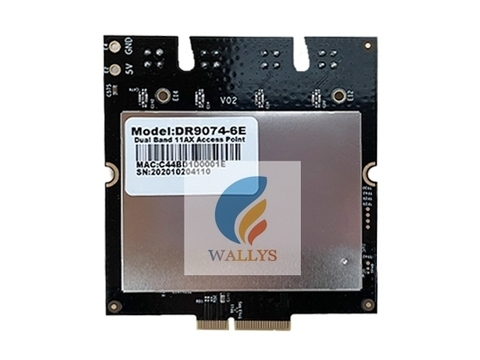 Qualcomm Atheros QCN9074/QCN9024: This refers to the specific model or chipset used in the wireless network adapter. Qualcomm Atheros is a well-known manufacturer of wireless communication products.

6GHz, max 23dBm per chain, up to 4949Mbps: This indicates the frequency band and the maximum power output of the wireless adapter. It operates in the 6GHz frequency range and can transmit up to 23dBm (decibels per milliwatt) of power per chain. The maximum data transfer rate supported is 4949Mbps (megabits per second).

Single Band 6GHz 4×4 WiFi 6E (802.11ax): This describes the type of wireless technology used by the adapter. It supports the WiFi 6E standard (also known as 802.11ax), which operates in the 6GHz frequency range. It has a 4×4 configuration, meaning it supports four transmit and four receive streams.

4 spatial streams (4SS): This refers to the number of spatial streams supported by the wireless adapter. In this case, it supports four spatial streams, which can enhance the data transfer capacity and improve overall performance.

M.2 E Key Interface: This indicates the physical interface used for connecting the wireless adapter to a compatible device. The M.2 E Key interface is a standardized connector commonly used for wireless communication modules.

PCI Express 3.0 Interface: This indicates an alternative interface option for connecting the wireless adapter. The PCI Express (PCIe) 3.0 interface is a widely used high-speed serial expansion bus standard that provides a fast and reliable connection between the adapter and the device it's installed in.