Qualcomm chip IPQ4019/IPQ4029 The biggest difference between the two:
Qualcomm chips IPQ4019 and IPQ4029 are multi-core processors based on the ARM architecture, used in embedded devices and networking devices such as routers.
IPQ4029 is an updated version of IPQ4019. The biggest difference lies in the performance. The IPQ4029 has higher clock speeds and more processing power to support higher network bandwidth and more device connections.
Specifically, IPQ4019 has four Krait 300 CPU cores with a clock speed of 717 MHz, while IPQ4029 has four Krait 450 CPU cores with a clock speed of 1.8 GHz. In addition, the IPQ4029 supports higher DDR4 memory frequencies and higher WLAN speeds, as well as more network protocols and interfaces.
Both IPQ4019 and IPQ4029 chips support the use of multiple radios. This means that you can use multiple WiFi interfaces on the same device, each with a different frequency band and protocol, for better network coverage and throughput.
For example, you can use IPQ4019 or IPQ4029 chips to build dual-frequency (2.4GHz and 5GHz) or three-frequency (2.4GHz, 5GHz and 6GHz) WiFi networks, or use multiple wireless interfaces to implement WiFi Mesh networks and so on. These different interfaces can be connected via a Wireless Bridge or a Wired Bridge.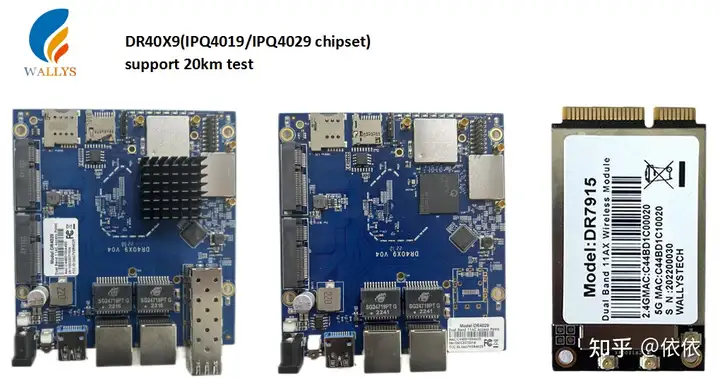 It is important to note that using more than one radio can increase the power consumption and complexity of the device, and issues such as frequency band usage and interference need to be considered. Therefore, when designing and implementing multiple radio schemes, a number of factors need to be considered in combination to achieve the best performance and reliability.
The above two kinds of chip amount motherboard with wifi card MT7915 can achieve the functions:
IPQ4019 and IPQ4029 are both Qualcomm embedded processor chips used in scenarios such as networking devices and routers, while MT7915 is Mediatek's WiFi 6E wireless network chip used to enable high-speed wireless network connectivity.
The IPQ4019 or IPQ4029 chip and MT7915 WiFi card can be used together to achieve the following functions:
High Speed WiFi 6E connectivity: MT7915 supports 802.11ax standard for high speed wireless network connectivity up to 9.6Gbps.
High-speed Wired network connectivity: Both IPQ4019 and IPQ4029 chips support multiple Gigabit Ethernet interfaces to provide stable, high-speed wired network connectivity.
Multi-device connection: IPQ4019 and IPQ4029 chips both support multiple WiFi and wired device connections, and the MT7915 wireless card can realize more device connections.
Secure connection: MT7915 supports WPA3 security protocol, which can provide higher network security. The IPQ4019 and IPQ4029 chips also support multiple network security protocols and functions to ensure network security.
To sum up, pairing IPQ4019 or IPQ4029 chips with MT7915 WiFi cards can achieve high-speed, stable, multi-device connected wireless and wired networks, and provide higher network security.
Wallys is a very powerful and famous company in China that independently develops, designs and produces wifi wireless devices. With strong software unity and hardware team, Wallys can support any customized products to meet the needs of more customers. More flexible.
At the same time there is a strong sales team to support pre-sale and after-sales technical support. Win more and more customer trust and recommendation.
EMAIL:sales@wallystech.com