The Wallys DR8072V01 router board is a compact and powerful networking solution designed for small to medium-sized businesses and home users. This router board is built with high-quality components and features a range of advanced networking capabilities that make it an ideal choice for those who need are liable and secure network infrastructure.It supports wifi 6e card,802.11ax/ac,QCN9074,MU-MIMO DL and UL.
One of the key features of the DR8072V01 router board is its powerful processor. It is equipped with a quad-core ARM Cortex-A7 processor–IPQ8072,that provides plenty of processing power for handling large volumes of network traffic. This makes it an ideal solution for businesses that need to support multiple users and devices simultaneously.
The router board also features 2 Gigabit Ethernet ports and 2 SFP ports, which provide a high-speed and reliable network connection. It also supports wireless networking, with dual-band 802.11ac Wi-Fi that offers fast and reliable wireless connectivity for all your devices.
The DR8072V01 router board also offers advanced security features to ensure that your networks safe and secure. It supports a range of security protocols, including你 WPA2-PSK, WPA2-Enterprise, and WPA3, as well as firewall protection to prevent unauthorized access to your network.
Another advantage of the DR8072V01 router board is its versatility. It can be used as a standalone router, or it can be integrated into an existing network infrastructure as a gateway or access point. It also supports a range of network protocols, including IPv4, IPv6, DHCP, and NAT.
In summary, the DR8072V01 router board is a powerful and versatile networking solution that offers advanced features and capabilities. It is an ideal choice for small to medium-sized businesses and home users who need a reliable and secure network infrastructure. With its powerful processor, high-speed connectivity, and advanced security features, it is sure to meet the needs of even the most demanding network environments.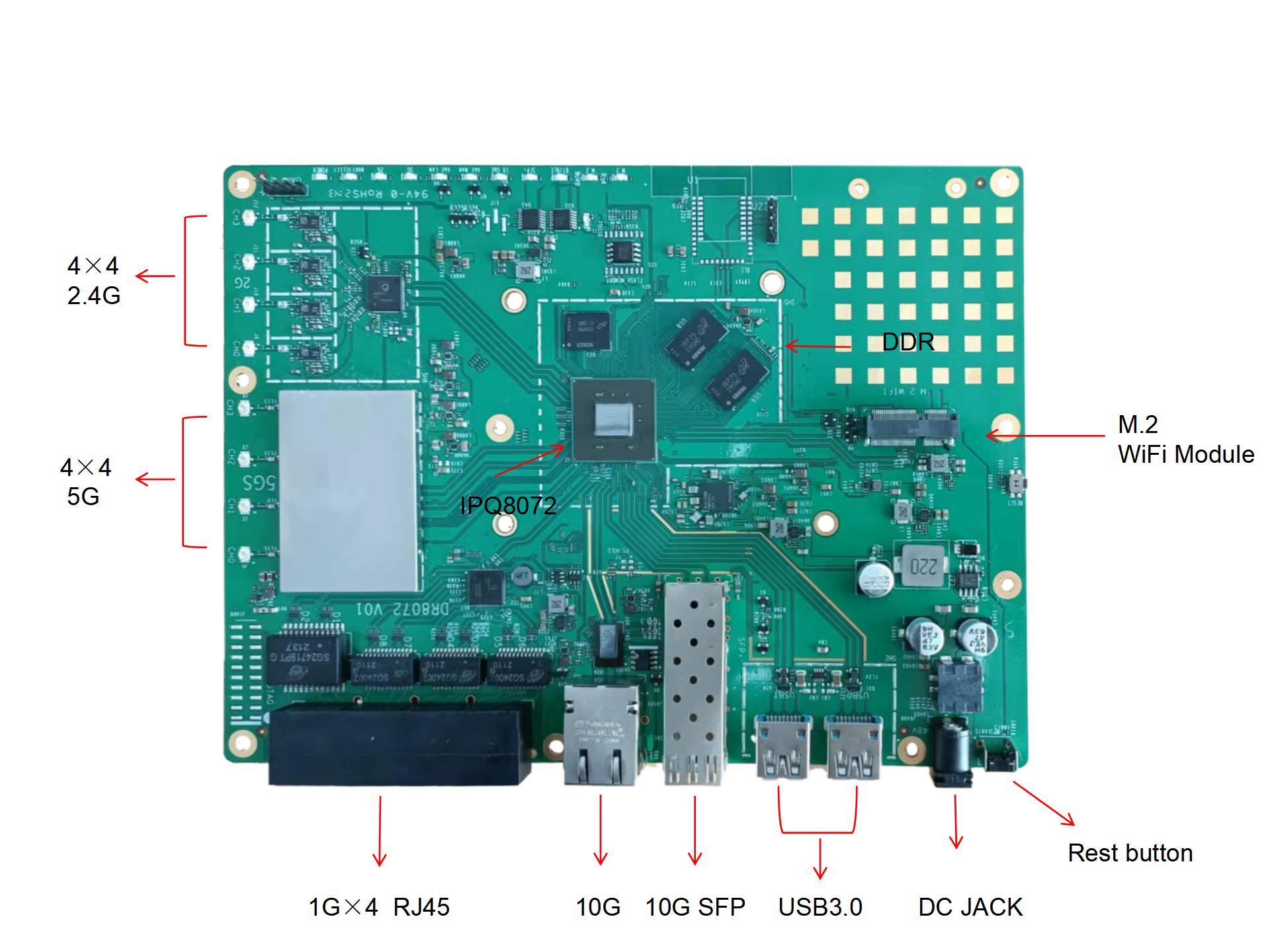 If you want to learn more about DR8072V01,click the link:
https://www.wallystech.com/Router board/DR8072V01-wifi6-Qualcomm-IPQ8072A-4T4R-support-OpenWRT-802.11AX-supporting-10GE-port-10G-SFP.html
Wallys Communications(Suzhou) Co.,Ltd,known as a specialist in researching and developing and producing of wireless communication products,have star product as Router board,Network Card,Industrial Wireless AP,Antenna etc.
Wallys is founded in 2010, Wallys is mainly engaged in the research and development and production of wireless communication products, providing OEM/ODM/JDM services for customers. Wallys is also one of the suppliers of the Facebook.
Visit us:https://www.wallystech.com/index.html
Or send e-mail to:sales5@wallystech.com
If you're interested in learning more about these products, we will spare no efforts in endeavoring to be of service to you.