IPQ9574 IPQ9570 Pro 1620 Qualcomm WIFI7 solution|Wallystech
Wi-Fi 7 is the latest generation of wireless networking technology, also known as IEEE 802.11be. It offers faster speeds, lower latency, and greater capacity than previous Wi-Fi standards, making it ideal for demanding applications such as 8K video streaming, extended reality, cloud-based gaming, and simultaneous video conferencing and casting.
Wi-Fi 7 utilizes advanced technologies such as 320MHz channels, 4K QAM, and multi-link implementations to achieve speeds of up to 30Gbps and support more devices and applications simultaneously. It also operates on the 2.4GHz, 5GHz, and 6GHz frequency bands to provide greater coverage and reduced interference.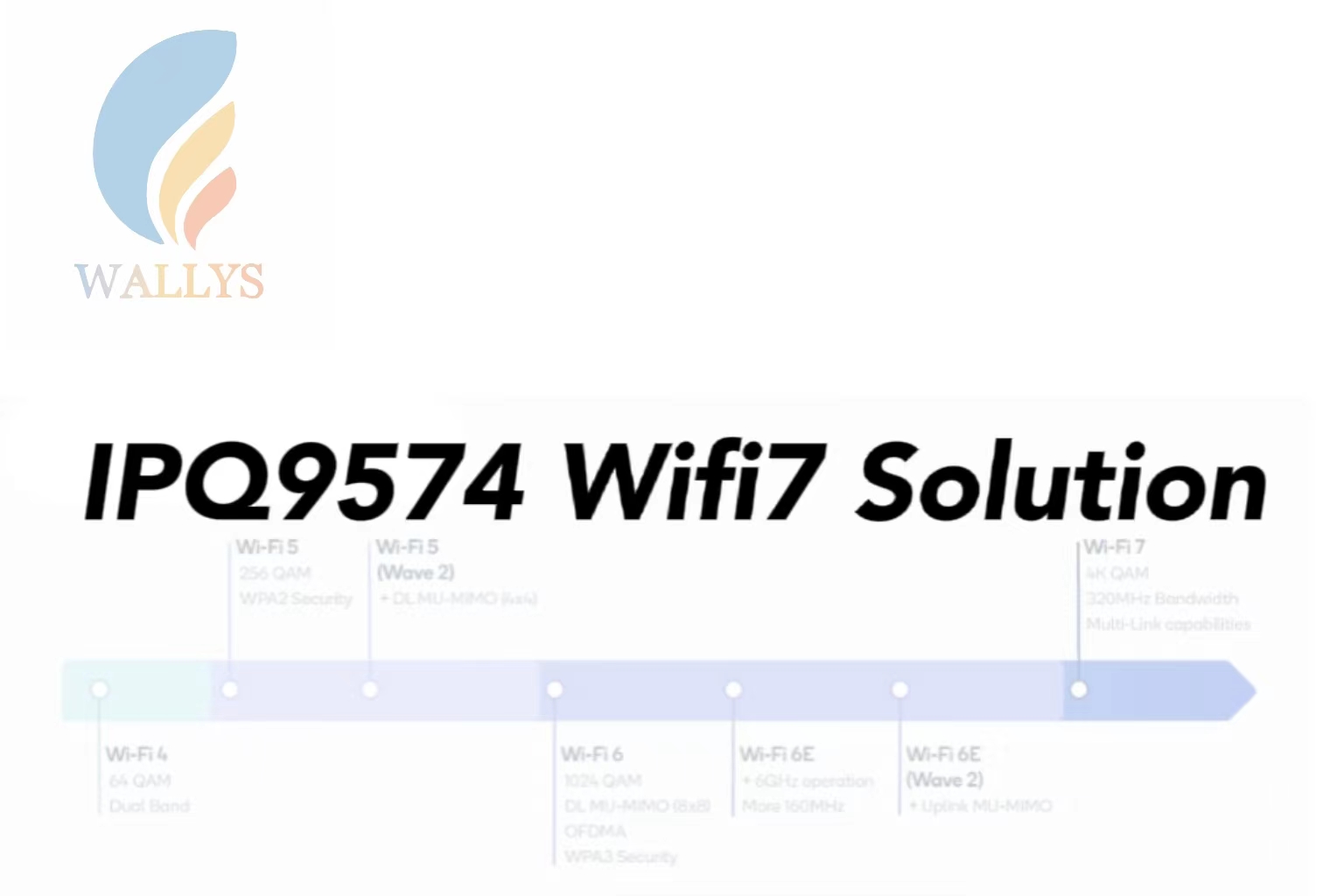 In addition, Wi-Fi 7 is backward compatible with earlier Wi-Fi standards, ensuring seamless connectivity for all devices. Overall, Wi-Fi 7 represents a significant leap forward in wireless networking technology and is expected to become widely available in the next few years.
The IPQ9574 is a quad-core Cortex-A73 Arm processor that operates at a clock speed of 2.2GHz. It is built on 14nm process technology and supports a range of Wi-Fi standards including 802.11be, 802.11ax, 802.11ac, 802.11n, 802.11a/b/g. The processor is designed to support Wi-Fi 7, Wi-Fi 6E, Wi-Fi 6, Wi-Fi 5, and Wi-Fi 4 generations, and is compatible with spectral bands of 6GHz, 5GHz, and 2.4GHz.
With support for 16 streams and channel widths of 320MHz, 240MHz, 160MHz, 80MHz, 40MHz, and 20MHz, the IPQ9574 can achieve peak speeds of 33Gbps (PHY Rate). It also features simultaneous and alternating multi-link modes, adaptive interference puncturing, 4K QAM, UL/DL OFDMA with 37 users, and UL/DL MU-MIMO with 4 users. The processor can support up to 2000 users and features TxBF, 802.11be QoS, and Qualcomm AFC service.
In terms of security, the IPQ9574 supports a range of protocols, including WPA3 Personal, WPA3 Enterprise, WPA3 Enhanced Open, WPA3 Easy Connect, WPA2, WPS, 802.11i security, AES-CCMP, AES-GCMP, PRNG, TKIP, WAPI2, WAPI1, and WEP.
The processor comes with a variety of memory and storage options, including DDR3L and DDR4 memory types, and flash storage options such as eMMC, NAND, and serial NOR. It also features platform extensions for Bluetooth, 802.15.4 (Zigbee/Thread), and 4G/5G FWA, and has an integrated Ethernet switch with 6 ports supporting 4 x 2.5 GE, 5 GE, and 10 GE. The processor is compatible with OpenWrt and Linux Kernel 5.4 operating systems and supports a range of interfaces, including 4x PCIe 3.0 controllers, PTA Coex, I2S, I2C, 2x USXGMII, 1x USXGMII-M, SD/eMMC, SDIO, SPI, UART, and USB 3.0.
The IPQ9574 is an impressive and powerful WiFi 7 chip with a quad-core Cortex-A73 Arm CPU clocked at 2.2GHz. It supports multiple Wi-Fi standards and generations, including the latest Wi-Fi 7, and spectral bands across 6GHz, 5GHz, and 2.4GHz. The 16 streams and support for up to 320MHz channel width make it capable of peak speeds of up to 33 Gbps.
One of the key advantages of this chip is its ability to support up to 2000 users simultaneously, thanks to features such as UL/DL OFDMA and MU-MIMO, making it ideal for dense deployments such as stadiums or large public venues. The Adaptive Interference Puncturing feature also helps improve performance in crowded environments.
Another advantage is the chip's support for various security protocols, including the latest WPA3 Personal and Enterprise, making it ideal for high-security applications. The integrated Ethernet switch, enhanced security processor, and high-performance QoS/TM make it a robust and versatile solution for a wide range of industrial and commercial applications.
Overall, the IPQ9574 is an impressive and versatile chip with strong capabilities and a wide range of features, making it a top choice for high-performance and high-security wireless communication applications.
Wallys is a company that specializes in industrial wireless communication solutions. With a focus on providing high-quality products and services, Wallys is committed to keeping up with the latest advancements in technology. This includes the development of new products that utilize the latest Qualcomm Wi-Fi chips, such as the IPQ9574 and QCN9274.
With an experienced software and hardware engineering team, Wallys is well-equipped to develop customized solutions that meet the specific needs of their customers. As part of this commitment, Wallys has announced plans to develop a Wi-Fi 7 product that utilizes the IPQ9574 and QCN9274 chips. This product is expected to be released around Q2-Q3 of this year.
By staying up-to-date with the latest technological advancements and offering customized solutions, Wallys is positioned to continue to be a leading provider of industrial wireless communication solutions.
Email:sales1@wallystech.com
Website: https://www.wallystech.com/