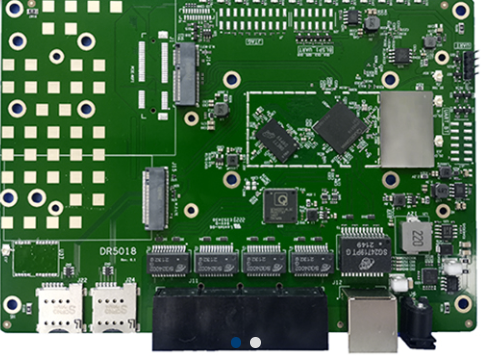 Introducing the Qualcomm-Atheros IPQ5018 – the cutting-edge networking solution that will revolutionize your home or business internet experience.
The IPQ5018 is a powerful system-on-chip (SoC) designed specifically for high-performance networking applications. With 8 cores running at up to 1.8GHz, this SoC is capable of handling the most demanding networking tasks with ease. Its advanced hardware acceleration capabilities allow for high-speed packet processing, ensuring low-latency and high-throughput connections.
The IPQ5018 is also equipped with the latest 802.11ax (Wi-Fi 6) technology, enabling faster wireless speeds and greater network capacity. Its advanced MU-MIMO (multi-user, multiple-input, multiple-output) technology ensures that multiple devices can connect to the network simultaneously without sacrificing performance.
In addition, the IPQ5018 offers a range of advanced security features, including hardware-level encryption and intrusion prevention, ensuring your network is secure from potential threats.
With its advanced features, the Qualcomm-Atheros IPQ5018 is the perfect solution for businesses and homes looking for a high-performance, secure, and reliable networking solution. So, upgrade to the IPQ5018 today and experience the power of next-generation networking technology.
Today I will show you the router board DR5018 from wallys with Qualcomm-Atheros IPQ5018.
Dual-core ARM 64bit A53@1.0GHz Processor
512MB DDRL3L System Memory
4MB NOR Flash, 128MB NAND Flash
2×2 On-board 2.4GHz radio,up to 573Mbps physical Data Rate
Support BT5.1
M.2 Card Slot for 5G (QUECTEL RM 500Q-GL) ;
M.2 Card Slot for QCN9074 WIFI 6E Card
Symbol

Parameter

CPU

Qualcomm-Atheros IPQ5018

CPU Frequency

Dual-core ARM 64 bit A53 @1.0 GHz processor

System Memory

512MB DDR3L 16-bit interface with 32-bit memory bus design

Ethernet Port

4 x 1Gbps Ethernet Ports or 1 x 1Gbps Ethernet Port & Poe

NGFF Slot

M.2 Card Slot for 5G (QUECTEL RM 500Q-GL) ;M.2 Card Slot for QCN9074 WIFI 6E Card

EMMC

4G/8G(optional)

USB /header

1x USB 3.0 Port

POE

NA

DC Jack

12V power supply

LED header

LED for power ,Wifi strength

Serial Port

support

Wireless

On-board 2×22.4GHz MU-MIMO OFDMA 802.11b/802.11g/802.11n/802.11ax,max 23dBm per chain

2x IPEX Connectors

Bluetooth

BT5.1

Nor Flash

8MB

Nand Flash

128 MB

DDR

512MB

Dimension

170mm x 120mm x 15mm
Wallys Communications (SuZhou) Co., Ltd., http://www.wallystech.com,which is mainly engaged in the research and development and production of wireless communication products,providing superior OEM/ODM/JDM services in wireless communications and customer-specific solution.In addition to the PCBA mainboard, we can also customize indoor or outdoor antennas, which we have extensive experience in. There is also the Tooling. We can do the Tooling for the customer, to undertake a variety of materials
mainly metal and plastic enclosure production. Whether antenna enclosure or router enclosure, we can customize for you. Besides of the Qualcomm chips we currently use, we can also use different chips to design according to customers' needs
MAIL:sales3@wallystech.com
WEB:https://www.wallystech.com/